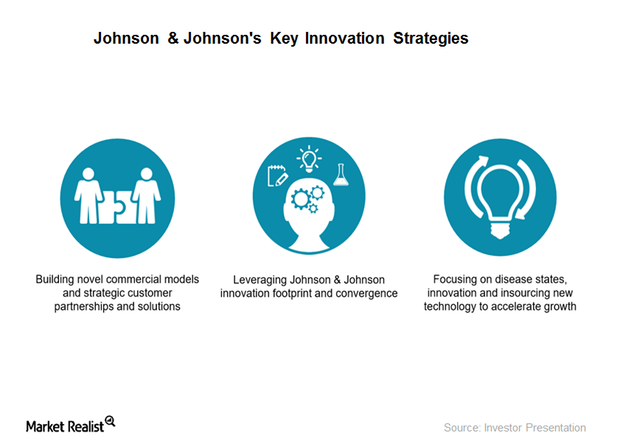 How Johnson & Johnson's Partnerships Enhance Customer Value
Partnerships and collaborations
Johnson & Johnson (JNJ) consistently enters into partnerships and collaborations. These help the company accelerate its aim to advance value-based healthcare and treatments available to patients around the world.
In the diagram below, you can see JNJ's key innovation strategies, including creating value through strategic customer partnerships and solutions.
For more on the company's partnership strategy, read How Strategic Collaborations and M&As Affect JNJ's Valuations.
Article continues below advertisement
JNJ's Ethicon partnership
Ethicon, a subsidiary of Johnson & Johnson, has partnered with Touch Surgery to improve surgical training globally. Touch Surgery is a healthcare technology app (application). The app will provide a simulated surgical training program to professionals worldwide.
The collaboration will help advance JNJ's vision of providing more efficient patient care through better-trained professionals. It will help improve the standards of surgical treatments around the world. The company is currently focused on general surgery training but plans to address other areas, including cardiovascular and orthopedics in the long term.
JNJ's cross-enterprise Diabetes Collaboration Zone
Johnson & Johnson aims to develop new solutions for the treatment of the increasing diabetes population. The company has launched a cross-enterprise Diabetes Collaboration Zone in collaboration with NACDS Total Store Expo. The platform will consist of a cross-functional team with expertise in technology, product, design, and other core areas to improve diabetes care by providing better solutions and services to patients.
Article continues below advertisement
JNJ helps hospitals through mandatory CMS plan for episode payment models
The Centers for Medicare & Medicaid Services (or CMS) proposed a mandatory episode payment program in early August 2016. The program makes the compensation payment to care providers available through an episode of care instead of individual care components.
JNJ's Geriatric Fracture Program is a solution that provides value-based care to patients and has proved successful in more than 150 hospitals. It will help care providers implement the program, provide support, and help collect information and data that will help them evaluate performance. The program is aimed at reducing the length of stays, better patient outcomes, and efficient treatment.
Johnson & Johnson's program is an example of the initiative undertaken and business model changes adopted by various medical device companies. These include Zimmer Biomet Holdings (ZBH), Abbott Laboratories (ABT), and Medtronic (MDT). It aims to be positioned better in the changing medical device industry, focusing on value-based care. JNJ accounts for approximately 6.7% of the iShares Core High Dividend (HDV).
Next, let's look at Johnson & Johnson's latest dividend announcement.