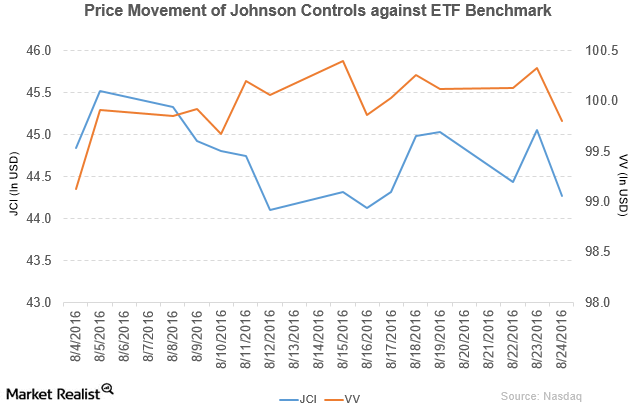 Johnson Controls' New Contract with Methodist Healthcare
Price movement
Johnson Controls (JCI) has a market cap of $28.2 billion. It fell by 1.8% to close at $44.27 per share on August 24, 2016. The stock's weekly, monthly, and year-to-date (or YTD) price movements were -0.11%, -3.3%, and 14.5%, respectively, on the same day.
JCI is trading 1.5% below its 20-day moving average, 0.05% above its 50-day moving average, and 9.7% above its 200-day moving average.
Article continues below advertisement
Article continues below advertisement
Related ETF and peers
The Vanguard Large-Cap ETF (VV) invests 0.15% of its holdings in Johnson Controls. The ETF tracks a market-cap-weighted index that covers 85% of the market capitalization of the US equity market. The YTD price movement of VV was 7.8% on August 24, 2016.
The market caps of Johnson Controls' competitors are as follows:
Latest news on Johnson Controls
Johnson Controls has entered into a $12.9 million technology contract with Methodist Healthcare to modernize Methodist University Hospital in Memphis, Tennessee.
A press release reported, "Johnson Controls will provide design-assistance and serve as the single point of responsibility for technology integration from start to finish, providing critical continuity throughout pre-construction, implementation, installation and service of the new tower."
Article continues below advertisement
Performance of Johnson Controls in 3Q16
Johnson Controls reported 3Q16 net sales of $9.5 billion, a fall of 1.0% compared to net sales of $9.6 billion in 3Q15. Sales from its Building Efficiency and Power Solutions segments rose by 33.0% and 3.1%, respectively. Sales from its Automotive Experience segment fell by 19.3% in 3Q16 compared to 3Q15.
The company's gross profit margin rose by 12.9%, and its income from continuing operations before income taxes fell by 11.0% in 3Q16 compared to 3Q15.
Its net income and EPS (earnings per share) rose to $383.0 million and $0.59, respectively, in 3Q16 compared to $178.0 million and $0.27, respectively, in 3Q15.
JCI's cash and cash equivalents fell by 21.8%, and its inventories rose by 25.0% in 3Q16 compared to 4Q15. Its current ratio and long-term debt-to-equity ratio fell to 0.92x and 0.54x, respectively, in 3Q16 compared to 1.0x and 0.55x, respectively, in 4Q15.
Projections
Johnson Controls has made the following projections:
It expects EPS to be $3.95–$3.98 per share for fiscal 2016, which reflects strong operational performance.
It expects EPS of $1.17–$1.20 for fiscal 4Q16.
This guidance doesn't include the impact of the Tyco merger and transaction, integration and separation costs, year-end pension and post-retirement mark-to-market adjustments, or other nonrecurring items.
In the next part, we'll take a look at Ford Motor (F).