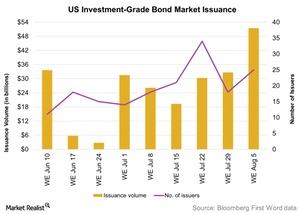 Investment-Grade Corporate Bonds Issuance Skyrocketed Last Week
By Lynn Noah

Aug. 9 2016, Updated 3:03 p.m. ET
Deals and volumes of investment-grade corporate bonds
High-grade bond issuance surged last week after the Bank of England (or BoE) announced an interest rate cut. It was the first in seven years. On August 4, 2016, it cut the rate by 25 basis points to 0.25%. It also announced a government and corporate bond-buying program in a bid to support the UK economy after the Brexit vote.
Investment-grade corporate bonds worth $51.5 billion were issued in the primary market in the week to August 5, 2016. High-grade issuance was $32.7 billion in the previous week. The number of issuers increased from 22 in the previous week to 34 in the week ended August 5.
Funds such as the iShares Intermediate Credit Bond ETF (CIU) and the Vanguard Intermediate-Term Corporate Bond ETF (VCIT) help you invest in high-grade bonds.
Article continues below advertisement
Issuance by quality and maturity
Fixed-rate issues formed 97.0% of the total issuance, while floating-rate issues worth $1.6 billion were issued last week.
Looking at the credit ratings of issues, AAA rated issuers were the most prolific. They made up 43.2%, or $22.3 billion, of the total issuance. They were followed by BBB rated issuers, which formed 35.7% of the week's issuance. Meanwhile, A rated papers formed 17.2% of the total issuance.
In terms of maturity, the five-year maturity category commanded the largest chunk of issuance, making up 31.5% each of all issues. It was followed by the ten-year maturity category, which commanded 29.3% of the total issuance. The three-year maturity category made up 9.5% of the total issuance.
The long-term maturity category such as the 30-year made up 20.4% of the total issuance. The >30-year and perpetual categories made up 5.3% and 1.0% of the total issuance, respectively.
In the next part of the series, we'll highlight the major deals, including pricing, credit rating, and yields.