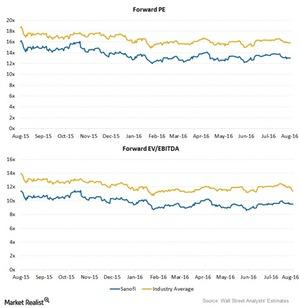 Inside Sanofi's Valuation Changes
A look at Sanofi's valuation
With rising sales in its Genzyme, Animal Health, and Vaccines segments, Sanofi (SNY) has reported a growing top line over the past few quarters. On August 17, 2016, Sanofi was trading at a forward PE (price-to-earnings) multiple of ~12.9x, as compared to the industry average of 16.3x.
We should note here that Sanofi is headquartered in Paris, France, and thus reports its financial results in euros. (Investors can refer the company overview at Sanofi: The Second-Largest European Pharmaceutical Group for further details on the company.)
Over the past year, the company's forward PE has been in the range of 12.0x and 16.2x. Competitors GlaxoSmithKline (GSK), AstraZeneca (AZN), and Novo Nordisk (NVO) are trading at a higher PE multiples of 16.8x, 16.7x and 19.1x, respectively.
Article continues below advertisement
Article continues below advertisement
Forward EV-to-EBITDA
On a capital structure neutral and excess cash-adjusted basis, Sanofi was trading at a forward EV-to-EBITDA (enterprise value to earnings before interest, tax, depreciation, and amortization) multiple of 9.5x, as compared to the industry average of ~12.3x on August 17, 2016.
Remember, the fundamental factors affecting stock prices and valuations include the performance of new and existing products, new and existing collaborations, and the results of clinical trials and product approvals.
This series covers the performance of existing products as well as other factors driving revenues for the company.
Stock price performance
Sanofi's stock has declined by ~21.3% over last 12 months, which is much lower than the PowerShares International Dividend Achievers ETF (PID), which has declined by only ~5.5% during the past 12 months. Notably, PID invests 1.4% of its total assets in Sanofi.
Analyst recommendations
Analysts estimate that the stock has the potential to return ~23.6% over the next 12 months. Analyst recommendations show a 12-month targeted price of $49.33 per share, as compared to $39.90 on August 16, 2016.
Meanwhile, 60% of the analysts covering Sanofi recommend a "buy," and 40% of the analysts recommend a "hold," according to Bloomberg's consensus. Changes in these analysts' estimates and recommendations are based on changing trends in the stock's price.
Now let's discuss Sanofi's growth drivers.