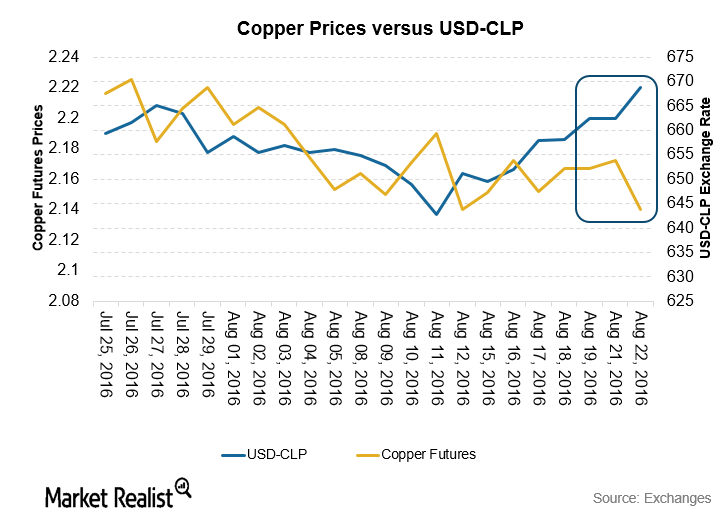 Why Are Falling Copper Prices Pressuring the Chilean Peso?
Copper fell by 1.5%, peso followed a similar path
Copper futures prices fell by 1.5% on August 22, 2016. The Chilean peso has a high correlation to copper prices—copper is Chile's major export. As a result, the peso followed a similar path. The US dollar-Chilean peso currency pair, inversely related to the Chilean peso, rose by 0.94% on August 22. For more details on the correlation between commodities and currencies, read Correlations Between Commodities and Global Currencies.
Article continues below advertisement
Review of upcoming macro data
Markets could be driven by speculation until multiple data release from the Chilean National Institute of Statistics on August 30. The year-over-year copper production and industrial production is expected to be below the previous month's figures. They're expected to fall by 7.7% and 3.8%, respectively. A similar weakness is expected in the retail sales data. The data are expected to rise by 1.0%—compared to 5.0% the previous month.
Impact on the market
As for ETFs, the iShares MSCI Chile Capped ETF (ECH) fell by 1.5% on August 22, 2016, as the Chilean peso also traded weaker. The ProShares Ultra Bloomberg Crude Oil ETF (UCO) was trading 6.1% lower as well.
Chile-based ADRs (American depositary receipts) were performing on a mixed note on August 22. Enersis (ENIC) was trading on a higher note—it rose 1.4% by the end of the day. LATAM Airlines Group SA (LFL) and Empresa Nacional de Electricidad SA (EOCC) were trading 2.5% and 1.4% lower, respectively.