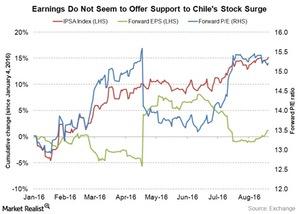 How Chile's Stock Market Continues to Find Support
By Surbhi Jain

Updated
Chile, a low-risk country
Chile (ECH) continues to be the lowest-risk country in Latin America (ILF). It's one of the best-evaluated economies in the region. In terms of foreign direct investment, Chile stands second only to Brazil (EWZ) among the Latin American emerging (EEM) (VWO) economies. With a corporate tax rate equal to 20% compared to 35% in the United States, the country's low tax regime is good enough to lure foreign investment into the economy.
Article continues below advertisement
Diversifying for growth
Chile is already in the process of redefining its trade relationships by diversifying beyond copper exports. That means the influence of sliding copper prices on its economy's well-being could be significantly reduced. Less dependence on copper exports could go a long way for Chile. The country signed the Trans-Pacific Partnership in February 2016.
Sagil Asset Management, a $110 million hedge fund, is bullish on Chile's economy from a directionally long perspective. The potential for political change in the region in November 2017 and the earnings attractiveness compared to the risk-free rate in the region are factors that bolster the fund's interest in the economy. The fund is exposed to Itau Corpbanca and Intel (INTC), which operate in the area.
An attractive consumer destination
Chile's growing middle-class consumer base has made it an attractive investment destination for consumers. Financial institutions such as Banco Santander (SAN) and utility companies such as Enersis Americas (ENI) are also operating to make gains from the growing middle class in Chile.
Let's move on to assess another Latin American emerging market: Mexico.