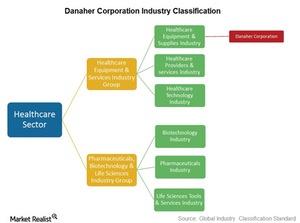 Introducing Danaher: A Diversified Healthcare Company
Danaher: An introduction
Danaher Corporation (DHR) is a diversified conglomerate with a market cap of ~$56 billion. The company designs and manufactures products that serve testing and diagnostic requirements in the healthcare and industrial end markets.
Therefore, Danaher's customer base is largely made up of professionals and organizations rather than retail consumers.
Article continues below advertisement
Danaher's sector classification
In July 2016, Danaher spun off its industrial-focused Fortive and Industrial Technologies segments into an independent public company known as Fortive Corporation (FTV). After this separation, Danaher became a diversified company with a principal focus on the healthcare equipment industry.
In quantitative terms, the company derives ~80% of its revenue from the healthcare-focused Life Science & Diagnostics and Dental segments. Therefore, the Global Industry Classification Standard (or GICS) classifies Danaher in the healthcare sector (IHF) rather than in the industrials sector. GICS is an industry taxonomy developed by MSCI and Standard & Poor's (SPGI).
The GICS structure consists of ten sectors classified into 24 industry groups, which in turn are classified into 67 industries. Danaher is in the healthcare equipment and services industry group within the healthcare sector (IYH). Fortive, which has a market cap of $18.5 billion, is in the machinery industry in the capital goods industry group within the industrials (XLI) sector.
We're dividing our company overview of Danaher into three separate series. In this first series, we'll analyze the company with two objectives:
to discern trends in Danaher's ability to return excess returns on capital
to understand whether Danaher has a sustainable competitive advantage compared to its peers
Investors interested in some of our other overviews of diversified companies can check out our series on Honeywell, 3M Company, and Deere & Company.