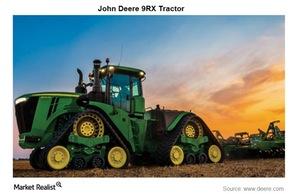 How Did Deere & Company Become the Brand It Is Today?
Deere & Company: Where it all started
John Deere, who began his career as a blacksmith, founded the eponymous Deere & Company (DE) in 1837. He started with one product, a simple plow, and sold just three plows in 1838.
However, word of his ingenious plow design spread quickly. Realizing that his unsophisticated production methods were unviable, he partnered with Leonard Andrus to start a factory in 1842. By 1849, the company was selling 1000 plows per year, and in 1868, the company was incorporated as Deere & Company, with John Deere's son Charles Deere as its president.
By the end of the 19th century, the company was making several cultivators, planters, and steel plows.
Article continues below advertisement
Article continues below advertisement
Deere tractors: Rise of an icon
With the advent of gasoline engines, the company started venturing into the tractor business in the early 1900s. Deere acquired several companies along the way, and by 1937, it had earned $100 million in annual revenue.
To showcase its new tractor lines, the company organized an unprecedented Deere Day in 1960, for which 6,000 dealers were flown in by chartered planes across the United States and Canada.
The tractor became to Deere & Company what the thermostat now is to Honeywell (HON). Generations of farmers in the United States now consider the iconic green and yellow tractors to be a part of their heritage.
Run-ins with labor unions
Post-1960s and continuing into the present day, Deere has been vulnerable to cyclical downturns in the farming (DBA) industry. The company's farming (MOO) equipment business has hovered around 65%–75% of its total sales since 1989. Deere competes with AGCO (AGCO) and Case IH in the farming equipment business.
The mid-1980s were also marked by frequent run-ins with labor unions. The company had to pay out $4.3 million in 1989 to settle a dispute with the Equal Employment Opportunity Commission, which was acting on behalf of employees who had been laid off. Disruptions in production due to potential strikes by the United Automobile Workers labor union is a potential risk even today.