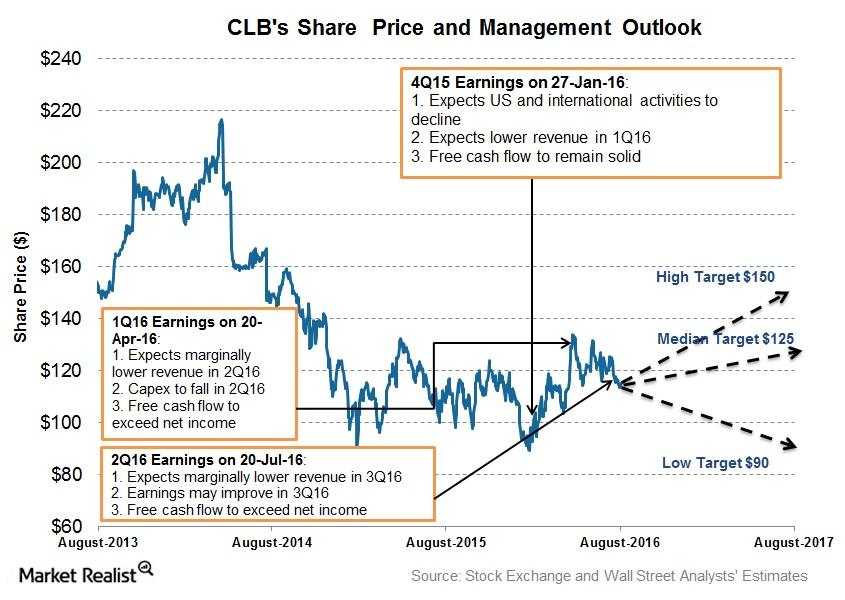 Inside Core Laboratories' Management Projections for 3Q16
What does Core Laboratories' management think?
Core Laboratories' (CLB) management expects onshore energy production to decline sharply by the end of 2016. It also expects the net production of legacy deepwater projects to offset onshore production declines. However, CLB's management also expects the energy market to start recovery after fiscal 2Q16.
In its fiscal 2Q16 conference call, Core Laboratories Chief Financial Officer Richard L. Bergmark stated, "Our second quarter 2016 results should mark the bottom of our anticipated V-shape worldwide commodity recovery, followed by increased crude oil prices and expanded industry activity levels worldwide."
Article continues below advertisement
Article continues below advertisement
Core Laboratories' projections for fiscal 3Q16
The company projects the following for 3Q16:
revenue to decrease marginally to a range of $148 million to $151 million compared to $148 million in 2Q16
operating margin at 15% in 3Q16
3Q16 EPS (earnings per share) in the range of $0.39–$0.41, as compared to $0.38 in 2Q16
3Q16 free cash flow to exceed net income
Analyst targets for CLB
Wall Street analysts have varied opinions about CLB's target prices in the next 12 months. While the lowest target price for CLB is ~$90, the highest is $150. The median target price, as surveyed among sell-side analysts, for CLB is $125. Core Laboratories is currently trading at ~$123, implying ~7% upside at its median price.
By comparison, Precision Drilling (PDS) received a $5.6 median target price. This, relative to its current price of ~$4.6, implies an upside potential of 21%. CLB is 0.3% of the iShares North American Natural Resources ETF (IGE).
Next, we'll discuss Core Laboratories' revenue and earnings.