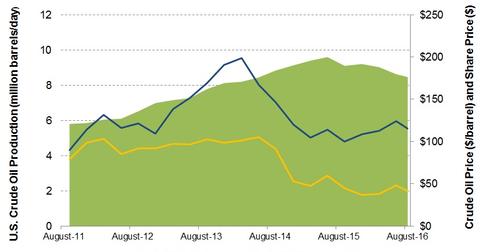 How Related Is CLB's Share Price to Crude Oil Prices and Production?
By Alex Chamberlin

Updated
Long-term crude oil price and production
From September 2011 to August 2016, US crude production has increased by 46% to ~8.5 million barrels per day. Production reached a multiyear high in June 2015. Since then, it has dropped by 12%. The WTI (West Texas Intermediate) crude oil price reached a high in June 2014. Since then, WTI has dropped by ~60% to ~$42 per barrel. Remember, strong production can pressure crude oil prices and subdue drilling activity.
Article continues below advertisement
What does this mean for Core Laboratories?
US crude oil production has fallen as a consequence of low crude oil prices. This has been affected by way of slow drilling activity. CLB's share price will be negatively impacted if lower drilling activity impacts the company's revenues and earnings.
Core Laboratories' (CLB) share price has increased by 28% since September 2011. However, since March 2014, when CLB's share price hit a multiyear high, it has declined by 42%. So CLB's share price has loosely followed the WTI price during the past five years.
The correlation coefficient between CLB's share price and the price of crude oil since August 2011 is 0.47. Since June 2014, Forum Energy Technologies' (FET) share price has declined by nearly 48%. Notably, CLB makes up 0.05% of the Vanguard Growth ETF (VUG).
The "fraclog" factor
That said, US crude oil production has been relatively resilient due to the presence of "drilled but uncompleted," or DUC wells. Production from these wells, which are also known as "fraclogs," partially offset the decline in production. This was due to the sharp production decline rate of wells and the lower drilling activity, as legacy rigs are retired.
Fraclog wells become operational when crude oil prices recover and shale economics are favorable. This can keep a lid on crude oil prices and extend the period of subdued drilling activity. This can also prolong pain for oilfield services companies like Core Laboratories.
In the next part, we'll discuss CLB's indebtedness.