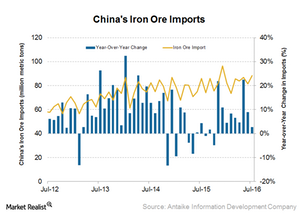 Why China's Iron Ore Imports May See a Near-Term Pullback
China's iron ore imports
In July 2016, China's iron ore imports came in at 88.4 million tons. This was a rise of 2.7% compared to 86.1 million tons in July 2015 and 81.6 million tons in June 2016. Iron ore imports in the first seven months of 2016 totaled 582 million tons, 8% higher than in the same period in 2015.
The recent price rally in Chinese steel prices is the main reason for the buoyant iron ore imports. This also the second highest import figures on record. In December 2015, China had imported higher volumes of 96.3 million tons.
Article continues below advertisement
Article continues below advertisement
Customs data and China's iron ore imports
China tracks the country's iron ore imports via customs data. This is important for investors, because this information provides a good sense of the appetite for imported ore among Chinese mills and traders. China consumes about two-thirds of seaborne iron ore.
Therefore, China's import appetite impacts iron ore players involved in the seaborne iron ore trade. These players include Cliffs Natural Resources (CLF), Vale (VALE), and Rio Tinto (RIO).
The iShares MSCI Global Metals & Mining Producers ETF (PICK) invests in iron ore, so this information affects it equally. BHP Billiton (BHP) is PICK's top holding, making up 16.7% of the fund. The SPDR S&P Metals & Mining ETF (XME) also invests in some of these stocks.
Seasonal demand pullback
The demand for steel in China usually weakens in September and October, as production typically abates ahead of the winter months. Along with increasing iron ore port inventories, this could reveal in a drop in iron ore imports going forward.
In the next part of this series, we'll see what is supporting the current trend in iron ore imports in China and whether it's sustainable in the long term.