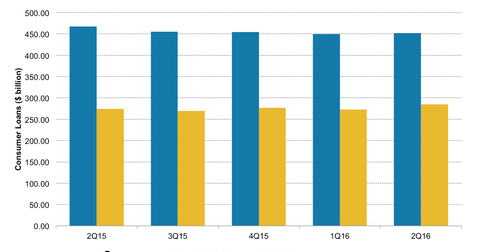 Consumer Banking Drives Growth for Bank of America and Citigroup
By Rebecca Keats

Updated
Bank of America and Citigroup's consumer banking business
Bank of America and Citigroup's consumer banking businesses are similar in size in terms of capital invested. However, Bank of America's consumer bank would benefit more from rising interest rates given its large deposit base. Further, Citigroup has been investing heavily in growing its cards business. The credit cards business is a high return business for Citi, as consumer credit and purchases are both growing in the United States. The company expects revenues in this business to be driven by Costco once the acquisition is complete.
Article continues below advertisement
In the second quarter, Bank of America's consumer banking business displayed healthy growth. During the quarter, the bank benefitted from good consumer and commercial banking activity. The bank's consumer business segment earned $1.7 billion, up 3% from the year-ago quarter driven by increased customer activity. Bank of America's consumer loans grew 5% to $452 billion, while deposits grew 8% in the second quarter. Credit and debit card spending grew by 4%.
In the second quarter, Citigroup's branded card business continued to drive earnings. The Costco portfolio acquisition that closed in June added $0.7 billion and 337,000 new accounts during the month, according to a UBS analyst. Further, the analyst expects the Costco portfolio to add $200 million to Citi's third quarter revenues. End of period loans were 4% higher at $592 billion while deposits grew 4% to $932 billion in the second quarter.
Investors looking for exposure to the banking space could invest in the Financial Select Sector SPDR ETF (XLF) or the iShares US Financials ETF (IYF)(IYG). Citigroup and Bank of America are well represented in these ETF portfolios.