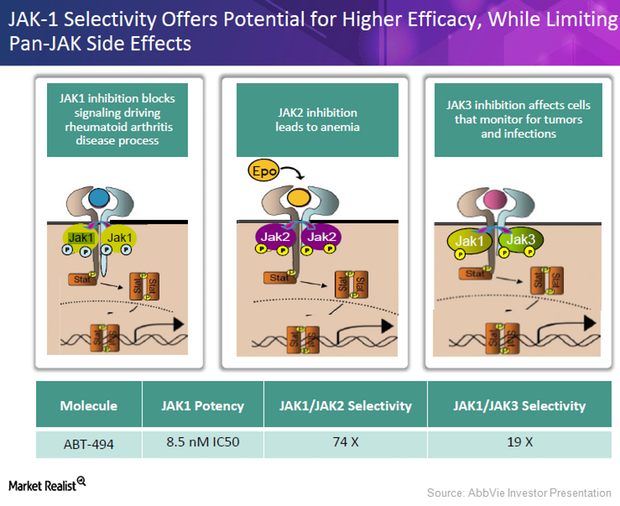 AbbVie Expects to Commercialize Selective JAK1 Inhibitor ABT-494
Selective JAK1 inhibitor ABT-494
Currently being tested in six Phase 3 trials for rheumatoid arthritis (or RA), investigational drug ABT-494 is expected to be a significant improvement in the standard of care for the disease.
AbbVie (ABBV) expects that ABT-494 will be considered a best-in-class drug and that it will be effective across multiple lines of therapy. This includes front-line use in methotrexate-naïve RA patients as well as those who don't respond properly to biologics. AbbVie expects to obtain data from its trials in 1H18 and to launch the drug in 2019.
If the company's projections prove correct, its share price and the price of the iShares Core S&P 500 ETF (IVV) could rise. AbbVie makes up about 0.57% of IVV's holdings.
Article continues below advertisement
Article continues below advertisement
ABT-494 efficacy
The above diagram shows that selective JAK1 inhibition manages to control the RA disease process while limiting the side effects witnessed while using JAK2 and JAK3 inhibitors.
AbbVie also tested ABT-494's efficacy based on RA trials with other investigational selective JAK1 inhibitors such as Galapagos NV's (GLPG) Filgotinib and Eli Lilly (LLY) and Incyte's (INCY) Baricitinib.
According to painfreelivinglife.com, "A number [is given] indicating how much a person's rheumatoid arthritis [RA] has improved, based on guidelines set forth by the American College of Rheumatology [ACR]. The ACR score represents a percentage. An ACR20 score means that a person's RA has improved by 20%, an ACR50 score means it has improved by 50%, and an ACR70 score means it has improved by 70%."
Based on ACR20, ACR50, and ACR70 scores for Filgotinib, Baricitinib, and ABT-494, respectively, ABT-494 demonstrated higher efficacy than its peers.
While ABT-494 was dosed twice daily in Phase 2 trials, AbbVie is testing the use of the drug as a single daily dosage in its Phase 3 trials. If successful, the single dosage regimen will result in better dosage adherence, improving ABT-494's commercial prospects.
In the next article, we'll study Humira's growth prospects and how they could affect AbbVie's share price in 2016.