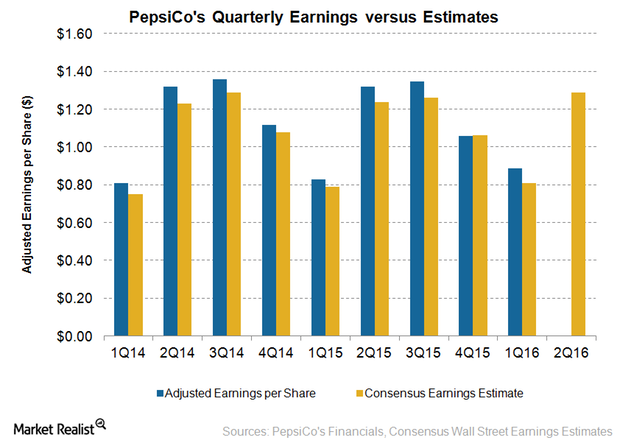 What Do Analysts Expect from PepsiCo's 2Q16 Earnings?
Challenging business conditions
PepsiCo's (PEP) performance in recent quarters has been under pressure due to currency headwinds and weakness in carbonated soft drink volumes. PepsiCo is scheduled to announce its results for 2Q16 on July 7. Analysts expect the company's adjusted EPS (earnings per share) for 2Q16, which ended June 11, to come in at $1.29. This estimate reflects a 2.3% decline in adjusted EPS compared to the second quarter of the previous year.
Article continues below advertisement
Improvement in 1Q16
PepsiCo's earnings beat the consensus analyst expectations in 1Q16. The company's adjusted EPS rose by 7.2% in 1Q16 to $0.89, ahead of the consensus analyst estimate of $0.81. The earnings growth, excluding one-time items, came after three straight quarters of earnings decline.
The growth in PepsiCo's 1Q16 adjusted EPS was a result of an improvement in the company's margins, excluding the impact of non-recurring items. The company also benefitted from a strong performance of its North America business in 1Q16. PepsiCo's North America business includes three segments: Frito-Lay North America, Quaker Foods North America, and North America Beverages. The iShares Global 100 ETF (IOO) has 1.7% exposure to PepsiCo.
PepsiCo's closest rival, Coca-Cola (KO), reported a 6.3% decline in its adjusted EPS in 1Q16, mainly due to the 12 percentage point impact of currency headwinds. Dr Pepper Snapple (DPS) reported a 16% rise in its 1Q16 adjusted EPS on a year-over-year basis. This growth was driven by higher sales and enhanced margins. Leading energy drink maker Monster Beverage (MNST) delivered an adjusted EPS growth of 26% in 1Q16, driven by strong sales and margin expansion.
Article continues below advertisement
PepsiCo's expectations
Despite considerable improvement in 1Q16 adjusted EPS, PepsiCo didn't raise its fiscal 2016 guidance and continued to be cautious, citing a highly volatile macro environment. PepsiCo reaffirmed its full-year fiscal 2016 adjusted EPS guidance at $4.66. PepsiCo's adjusted EPS in fiscal 2015 was $4.57. The company expects currency headwinds to impact fiscal 2016 EPS by approximately four percentage points.
PepsiCo's international operations accounted for 44% of its 2015 revenue. Such significant international exposure makes the company vulnerable to currency headwinds. The company's 2Q16 earnings are likely to be impacted by currency headwinds given the strengthening US dollar against major world currencies.
We'll discuss analyst recommendations for PepsiCo's stock in the next part of this series.