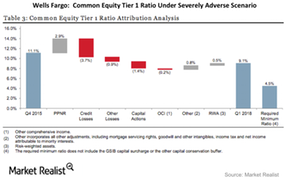 Did Wells Fargo Pass the Fed's Stress Test?
The Fed's stress tests
The Fed (Federal Reserve) released the results of its annual stress tests last Thursday, June 23. These stress tests simulate the effect of a worldwide recession on US banks (IYG). These results also factor into the Fed's decision to approve plans for rewarding dividends and share buybacks. For this year, the Fed conjured up a worst-case scenario in which unemployment increases to 10%, the value of stocks and homes fall by 50% and 25%, respectively, and interest rates dip below 0% over a nine-quarter period spanning from the first quarter of this year through the first quarter of 2018.
Article continues below advertisement
Article continues below advertisement
Wells Fargo performed well on its stress test
The Fed's results indicate that Wells Fargo (WFC) has sufficient capital to absorb the estimated $25 billion in losses it is projected to incur under the test's worst-case scenario. At the lowest point of a hypothetical recession, Wells Fargo's common equity Tier 1 ratio comes in at 7.2%, higher than the 4.5% regulatory minimum level.
Wells Fargo has consistently performed well in stress tests. This has enabled it to increase its dividends annually. The company's dividend payout ratio of 35.8% is slightly lower than the cap of 40%. On June 29, the Fed approved Wells Fargo's capital plans after it found that the bank would be able to keep lending in a severe economic downturn. This clears the way for Wells Fargo to reward investors through dividends and share repurchases.
Leading brokerage firm CLSA mentioned in a report that it expects returns through dividends and buybacks to rise to $51 billion in the next year at JPMorgan Chase (JPM), Bank of America (BAC), Citigroup (C), and Wells Fargo (WFC).
In the next part of this series, we'll discuss key takeaways from Wells Fargo's Investor Day.