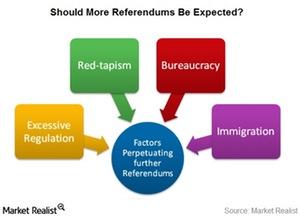 Structural Issues with the EU Could Lead to Further Referendums
Factors that could lead to further referendums
During her appearance on Wall Street Week, Deirdre Bolton, host of Risk and Reward on Fox Business Network, discussed factors that could perpetuate further referendums in the European Union.
Bolton counted excessive regulation, red tape, bureaucracy, and immigration as factors that could lead to the contagion of Brexit to other European Union member nations.
Bolton noted that under the current EU structure, the weaker countries go to the stronger countries for aid and support. A well-known example occurred when Greece (GREK) approached Germany (EWG) (HEWG) for several bailouts.
Bolton notes that the EU is gradually approaching the tipping point where "stronger countries just don't want to deal with this anymore."
Article continues below advertisement
Works better in a free market society
According to Charles Payne, host of Making Money with Charles Payne on Fox Business Network, independence from the European Union structure would typically lead to less governance for a country. Payne noted that we live in a free market, and "less government typically works pretty well in a free market society."
Many European countries (FEZ) (DBEU) (IEV) want the ability to print their own money and come to their own aid instead of going to the ECB (European Central Bank). However, these countries would need to adjust to socialism-like policies.
We've discussed the possible repercussions of the Britain's (EWU) exit from the EU, and the vulnerability of other member countries to a similar outcome. However, not all is dark when it comes to potential outcomes after the Brexit votes. The rise in market volatility may serve as an opportunity for hedge funds to reap gains.