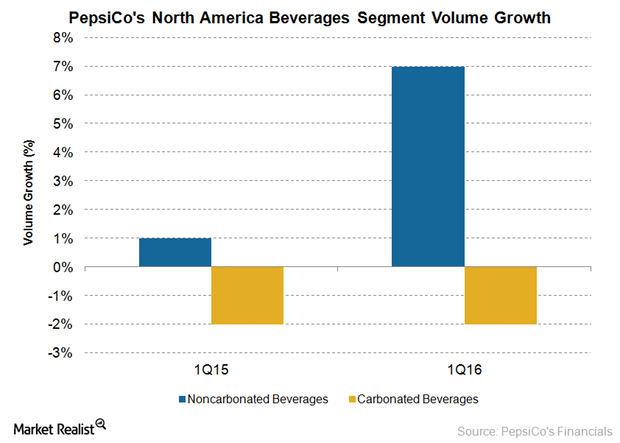 PepsiCo Aims to Revive Soda Volumes with Crystal Pepsi
Attempt to revive soda sales
Carbonated soft drinks have been losing their fizz as more and more consumers are opting for healthier beverage options like ready-to-drink tea and bottled water. In an attempt to revive its soda sales, PepsiCo announced on June 29 that its iconic 90s clear cola drink "Crystal Pepsi" will be available for a limited time across retail and foodservice locations. Crystal Pepsi will be available in Canada on July 11 and in the US beginning August 8. PepsiCo will offer 20-ounce bottles of Crystal Pepsi at major retailers for a suggested retail price of $1.79.
Article continues below advertisement
Persistent weakness
Nonalcoholic beverage giants have been facing persistent weakness in soda volumes. In 1Q16 ended March 19, 2016, PepsiCo's soda volumes fell by 2% while the noncarbonated beverage volumes grew 7%. Growth in the company's noncarbonated beverage volumes in 1Q16 was driven by a double-digit increase in the company's water portfolio, a mid-single-digit increase in Gatorade, and a double-digit increase in Lipton ready-to-drink teas. PepsiCo constitutes 4.3% of the iShares Global Consumer Staples ETF (KXI) and 3.9% of the Vanguard Dividend Appreciation ETF (VIG).
Coca-Cola's (KO) sparkling beverage volumes were flat in 1Q16. The company's still or noncarbonated beverage volumes rose by 7% in the quarter. In 1Q16, Dr Pepper Snapple (DPS) saw 2% growth in volumes of both carbonated soft drinks and non-carbonated beverages.
Diet Pepsi with aspartame is back
According to a Wall Street Journal article, PepsiCo will be bringing back its original Diet Pepsi with Aspartame in September. In April 2015, PepsiCo announced that it will replace the aspartame in its Diet Pepsi with a blend of sucralose and acesulfame potassium. The company's decision last year was driven by concerns surrounding the negative effects of artificial sweeteners like aspartame.
The company will continue to sell the sucralose version of Diet Pepsi. PepsiCo's move to bring back the aspartame version of Diet Pepsi was because loyal consumers preferred the original taste.
However, it's unlikely that this move will bring about any drastic improvement in the company's soda volumes. Diet sodas have been performing worse than traditional sodas. Overall, PepsiCo is reducing its reliance on soda beverages and expanding its still beverage portfolio. Globally, less than 25% of PepsiCo's revenue comes from carbonated soft drinks.
We'll discuss PepsiCo's productivity initiatives in the next part of this series.