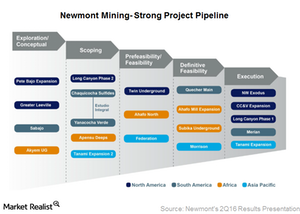 Newmont's Project Pipeline: On Track and On Budget
Project pipeline
Newmont Mining (NEM) has five projects in final stages, all of which will start production either this year or next. The company approved funding for Northwest Exodus in June 2016, and the project is now under construction.
According to the company, this project is a profitable expansion located near its existing underground mine in the Carlin North area. It will use the existing infrastructure at the site to add to low-cost ounces to the company's portfolio. It will add 700,000 ounces later this year, while extending the mine life by seven years.
Merian project in Suriname is 90% complete and on track to come on line in the second half of 2016. The average estimated gold production from the project is expected to be 400,000–500,000 ounces for the first five years.
Article continues below advertisement
Long Canyon on track
Long Canyon, Nevada, is 80% complete and is on track and on budget to start production in early 2017. Its first phase consists of an open-pit mine and a heap leach operation. Production is estimated to be between 100,000–150,000 ounces per year over an eight-year mine life.
Tanami and CC&V Expansion
Tanami Expansion, Australia, is also on budget and is running ahead of schedule. It's expected to start production by the second half of 2017 and will increase the production and lower all-in sustaining costs at the existing Tanami operation. The company expects to generate an internal rate of return in the mid 30% range on this project. The company also mentioned during the call that the recent exploration results at Tanami have confirmed the potential to double the current reserve base.
The Cripple Creek and Victor, or CC&V, expansion is also progressing ahead of schedule and on budget. The expansion will likely increase the mine life to at least 2026. The recovery plant is also on track for completion by the end of the year.
Together, these five projects are expected to add 1 million ounces to production, at average all-in sustaining costs, or AISC, of $700 per ounce.
Ahafo Mill expansion and Subika Underground in 2H16
Newmont will make a decision on the Ahafo Mill expansion and the Subika Underground project in the second half of 2016. These projects will leverage existing infrastructure and will thus be cost effective. Subika Underground will deliver higher grade ore to the Ahafo mill and, in the process, will create a platform for exploring the region's highly prospective underground resource.
Newmont's project pipeline continues to be one of the strongest among peers, including Barrick Gold (ABX), Kinross Gold (KGC), and AngloGold Ashanti (AU). AngloGold Ashanti and Kinross make up 3.7% and 2.8%, respectively, of the VanEck Vectors Gold Miners ETF (GDX).
In the next part of this series, we'll look at the advances Newmont Mining has made on costs as of 2Q16—and how far it still has to go.