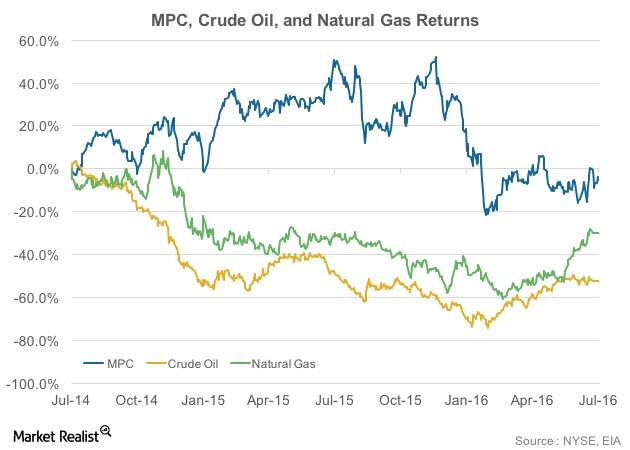 How Has Marathon Petroleum Stock Performed Pre-Earnings?
MPC's stock performance
In 2015 until the end of November, stocks of refining companies such as Marathon Petroleum (MPC) witnessed an upward spiral. Between July 2014 and November 2015, MPC stock rose 51%. But after that, it fell until early 2016.
Refining stocks started falling with news of the abolition of the crude oil export ban in the United States. It swelled inventory levels and narrowed cracks. MPC stock gains vanished, and it gave negative returns between July 2014 and February 2016. It fell 21% until February 2016.
However, the stock rose again by 6% until April 2016 compared to July 2014. This was because refining cracks started strengthening but remained volatile. However, the cracks witnessed weakness in June 2016, and MPC stock fell again. The stock has fallen 5% until July 2016 compared to July 2014.
Article continues below advertisement
MPC stock correlation to crude oil and natural gas prices
MPC stock shows a positive correlation to crude oil prices. The correlation coefficient of MPC stock compared to WTI (West Texas Intermediate) for the past 12-month period stands at 0.32. Correlation coefficient shows the relationship between two variables. A correlation coefficient value of 0–1 shows a positive correlation. Zero states no correlation, and -1–0 shows an inverse correlation.
The value shows a not-so-strong correlation. It also means that on average, a 32% movement in MPC's stock price can be explained by changes in WTI prices. The correlation to natural gas is feeble at 0.09.
The situation remains the same for MPC's peer Tesoro (TSO). The correlation of TSO and WTI stands at 0.24. Other downstream players such as Western Refining (WNR), HollyFrontier (HFC), and PBF Energy (PBF) have correlations to WTI of 0.33, 0.29, and 0.24, respectively.
The PowerShares Dynamic Large Cap Value ETF (PWV) has ~5% exposure to energy sector stocks.