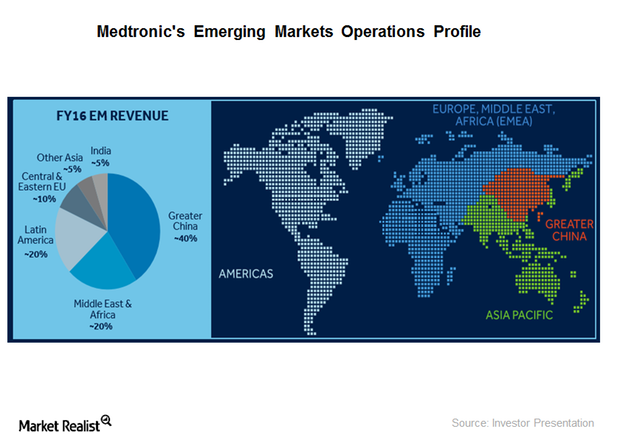 A Look at Medtronic's Geographic Strategy in 2016
Medtronic's geographic strategy
Globalization is one of Medtronic's (MDT) key growth strategies. The United States is the largest market for the company, despite its well-diversified operations and expansion across geographies. More than 50% of Medtronic's revenues are earned through its US business. Emerging markets are a potential growth area for the company. Although they already contribute significantly to the company's revenues, they contain immense untapped growth opportunities.
Article continues below advertisement
Article continues below advertisement
Emerging markets strategy
Medtronic has established a development strategy to expand across emerging markets and leverage its scale to gain the untapped market share. The company aims to establish education and training centers across these markets and expand the distribution network and reach of Medtronic's products and solutions. The company also plans to develop products locally according to the local need and conditions. It hopes to accelerate these initiatives through partnerships and collaborations with governments and private organizations.
Through channel optimization, Medtronic expects to generate ~$1.8 billion in benefits over the next five years. Channel optimization will enable the company to offer better services to customers through direct relationships, which could help to improve margins and accelerate growth.
Other major medical device companies keen on expansion in emerging markets include Becton, Dickinson and Company (BDX), Zimmer Biomet (ZBH), and Johnson & Johnson (JNJ). Investors can gain exposure to Medtronic by investing in the iShares Russell 1000 Value ETF (IWD).