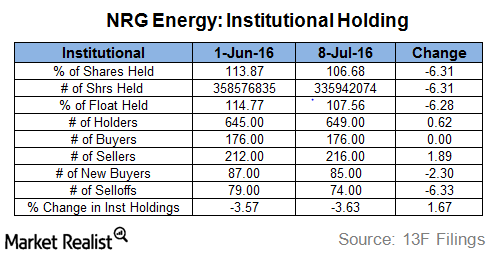 What Are Institutional Investors Doing with NRG Energy?
By Vineet Kulkarni

Dec. 4 2020, Updated 10:52 a.m. ET
Institutional holdings in NRG Energy
Institutional investors decreased their positions in NRG Energy (NRG) in June 2016. PJM's capacity market auctions followed UBS's downgrade of NRG. The Brexit vote also weighed on NRG's market performance.
Meanwhile, the percentage of float held in NRG Energy by institutional investors has declined more than 6% through July 8, 2016, compared to a month ago. The float of a company refers to the number of shares available for trading. Float percentage can be above 100 if shares sold short are reborrowed and sold again.
Article continues below advertisement
Are institutional investors moving away from NRG?
For NRG, the number of buyers stayed unchanged, while the number of sellers increased by nearly 2% in June 2016. The number of new buyers decreased by more than 2%, and the number of sell-offs dipped 6.3%.
Notably, the percentage of float held by institutional investors in NRG has shrunk from ~114% in June to ~107% as of July 8, 2016. Vanguard, Franklin Resources, and BlackRock are the top three institutions holding NRG Energy as of July 11, 2016.
NRG Energy's trimmed dividends can be added woes for its investors. Its relatively less stable earnings and large swings in stock prices may have seriously hurt investor sentiment.
Investors may continue to move away from risky merchant power player stocks in the short term since the Markets are looking for low-risk moderate returns. We may see long position additions in comparatively stable regulated utility stocks (SO) (DUK) during the turmoil in the broader markets.