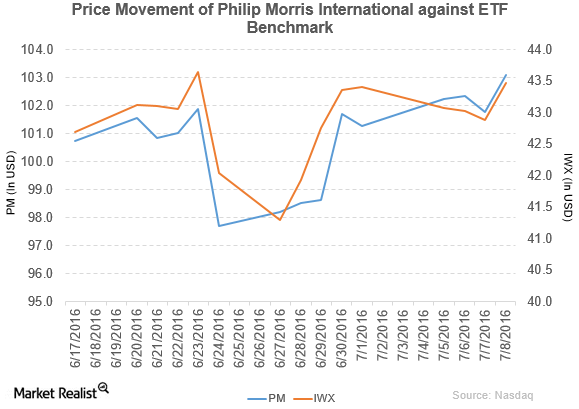 ICSID Dismisses Philip Morris's Lawsuit against Uruguay
Price movement 
Philip Morris International (PM) has a market cap of $160.6 billion. Its stock rose by 1.3% to close at $103.09 per share on July 8, 2016. The stock's weekly, monthly, and YTD (year-to-date) price movements were 1.4%, 2.4%, and 19.7%, respectively, on the same day. PM is trading 2.9% above its 20-day moving average, 3.9% above its 50-day moving average, and 13.6% above its 200-day moving average.
Article continues below advertisement
Article continues below advertisement
Related ETF and peers
The iShares Russell Top 200 Value ETF (IWX) invests 0.99% of its holdings in Philip Morris. The ETF tracks an index of US large-cap value stocks. The index selects from stocks ranked 1–200 by market cap based on two style factors. The YTD price movement of IWX was 4.2% on July 8.
The market caps of Philip Morris's competitors are as follows:
Latest news on Philip Morris
In a press release on July 8, 2016, Reuters stated, "The World Bank's International Centre for Settlement of Investment Disputes (or ICSID) ruled in favor of Uruguay on Friday in a suit filed by Philip Morris International seeking compensation for economic damages caused by the nation's anti-tobacco measures."
It also noted, "In a lengthy decision published on Friday, the ICSID said it had ruled to dismiss Philip Morris' demand that the regulations be withdrawn, or not applied to the company, or that it be paid $22 million in damages instead."
Article continues below advertisement
Philip Morris's performance in 1Q16
Philip Morris reported 1Q16 net revenues of $16.8 billion, a fall of 3.3% from net revenues of $17.4 billion in 1Q15. In 1Q16, net revenues from the European Union, EEMA (Eastern Europe, the Middle East, and Africa), Asia, and Latin America & Canada segments fell 4.5%, 10.2%, 8.7%, and 10.5%, respectively, from the corresponding period last year. The company's gross profit and operating income fell by 9.1% and 13.9%, respectively, in 1Q16 compared to 1Q15.
The company's net income and EPS (earnings per share) fell to $1.5 billion and $0.98, respectively, in 1Q16, compared to $1.8 million and $1.16, respectively, in 1Q15.
Philip Morris's cash and cash equivalents fell by 13.8% in 1Q16 compared to 4Q15. It reported a free cash flow of $236.0 million in 1Q16 compared to -$578.0 million in 1Q15.
Projections
Philip Morris has made the following projections for 2016:
EPS of $4.40–$4.50, excluding share repurchases
a 2.0%–2.5% decline in international cigarette volume, which excludes China and the United States
These projections don't include the impact of future acquisitions, unanticipated asset impairment and exit cost charges, future changes in currency exchange rates, or any unusual events.
In the next part of this series, we'll take a look at Harley-Davidson.