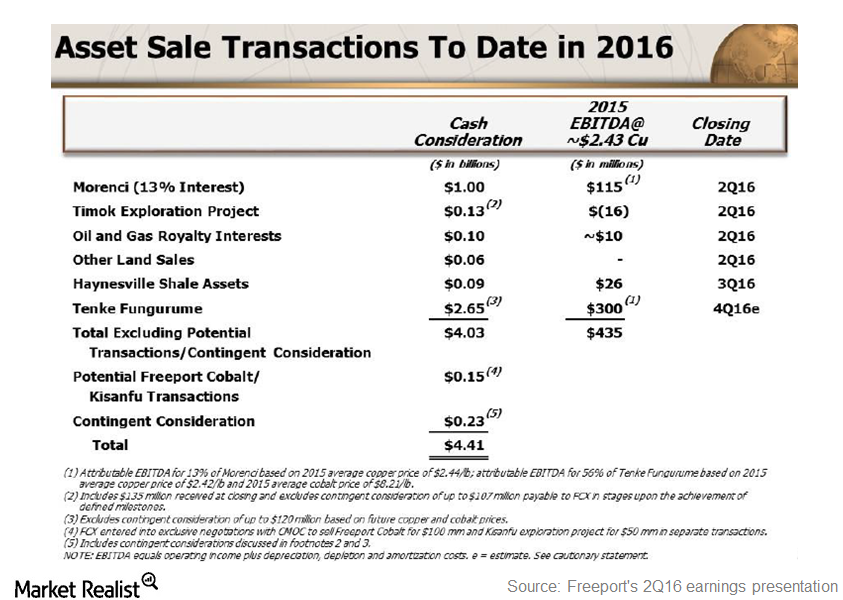 Freeport-McMoRan's Debt Reduction Plan: Key Takeaways
Freeport's debt reduction plan
During its 4Q15 earnings conference call, Freeport-McMoRan (FCX) mentioned a debt reduction program to raise $5 billion–$10 billion to shore up its balance sheet. The debt reduction issue dominated management discussions and analysts' questions during Freeport's 2Q16 call. And not without reason. Asset sales have been the key driver of Freeport's price action this year. You can find out more in Understanding the Strategic Importance of Freeport's Asset Sales.
Article continues below advertisement
2Q16 call
During their 2Q16 earnings call, Freeport announced an at-the-money (or ATM) equity offering of $1.5 billion. Note that Freeport had raised $2 billion through an ATM transaction in 2015 as well.
Richard Adkerson, Freeport's chief executive officer, said during the 2Q16 earnings call that the company could "see the way forward, without further asset sales, without further equity sales." However, he didn't rule out more asset sales if they add shareholder value. The optimism seems driven by improved market conditions.
Improved market conditions
Note that Freeport announced ~$4.5 billion in asset sales year-to-date. You can look at the different asset transactions in the graph above. These sales, coupled with improved market conditions, have provided the company with a lot of leeway in dealing with markets and its lenders. Earlier this year, asset sales were more of a necessity for Freeport as it was fighting for its survival. Now the company can be a lot choosier about which asset it would like to put on the table along with the pricing.
It's important to note that asset sales transactions, though positive in the near term, are tantamount to sacrificing future growth. You can explore this outlook more in Has Freeport-McMoRan Sacrificed Long-Term Growth for Survival.
You can also visit our Copper page for the other recent developments in this industry.