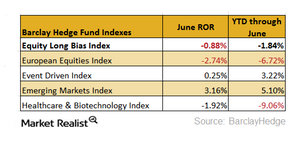 Why the Equity Long Bias Hedge Fund Underperformed
By Sarah Sands

Updated
Barclay Equity Long Bias Hedge Fund
The Barclay Equity Long Bias Hedge Fund returned -1.0% in June 2016. On a year-to-date (or YTD) basis, the fund provided a return of -1.8% through June 30, 2016. The equity long bias strategy works best when the Market is on an uptrend. The equity short bias strategy works best when the Market (SPY) (VOO) is on a downturn.
From January 2016 to mid-February 2016, the global markets (ACWI) (VTI) were in a downturn due to a slowdown in the Chinese (FXI) (MCHI) (ASHR) manufacturing PMI (Purchasing Managers' Index) and a fall in commodity (DBC) and crude oil prices (USO) (BNO) (UWTI). At that time, the equity short strategy worked. The Barclay Equity Short Bias Hedge Fund returned 9.0% in the first three months of 2016.
Article continues below advertisement
Fund managers use the equity long bias strategy when the average net long positions of their portfolios are greater than 35%. In June 2016, the equity long bias strategy didn't work. The Market experienced a massive sell-off due to the outcome of the Brexit vote. At the end of June, the Market recovered some points, but the portfolio's net long position was in the loss zone.
Performance of various ETFs