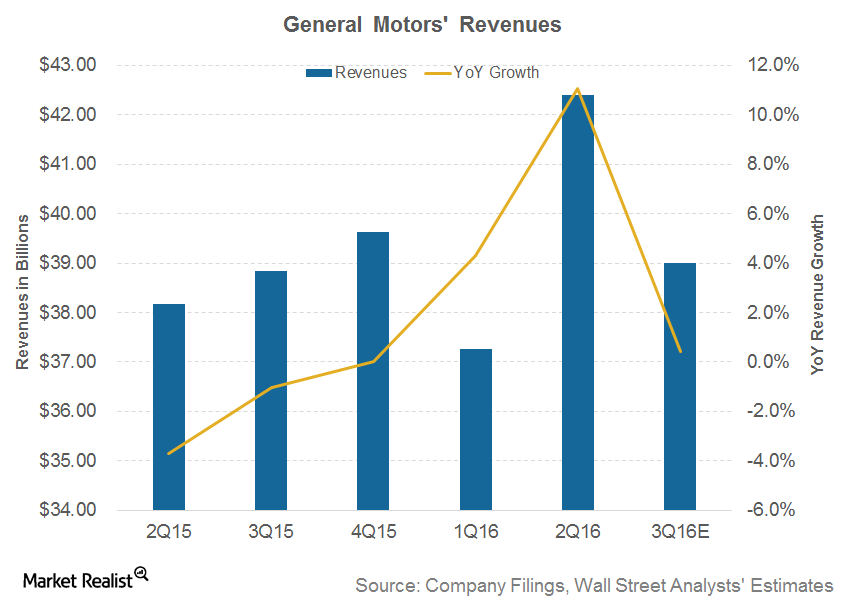 What Drove General Motors' Revenues Higher in 2Q16?
General Motors' revenues
In 2Q16, General Motors' (GM) revenues came in at $42.4 billion. This reflects an increase of 11.1% over $38.2 billion in the corresponding quarter of the previous year. Positive growth in revenues was primarily driven by continued strength in retail vehicle sales in North America and an improved performance in China and Europe. In this part of the series, we'll take a closer look at what made General Motors' revenues increase.
Article continues below advertisement
Article continues below advertisement
GM continues to rule in North America
North America is the largest single market for General Motors. Last year, it accounted for ~70% of the company's total revenues. In North America, GM delivers vehicles under multiple brand names, including Buick, Cadillac, Chevrolet, and GMC.
In 2Q16, GM's revenue from North America rose 14% YoY (year-over-year) to $30.2 billion. This was primarily due to an ongoing trend in the US auto market in which demand for pickup trucks and utility vehicles is surging over small car demand. Low gasoline prices and low interest rates are the key drivers behind this shift in US auto demand.
Other mainstream automakers (FXD) such as Ford Motor Company (F), Fiat Chrysler Automobiles (FCAU), and Toyota Motor Corporation (TM) also have strong exposure to the North American auto market.
US market share drops
In the first half of 2016, GM sold 10.7 million units, 2.7% more than in the corresponding period of the previous year. Out of this, the company sold 1.4 million vehicles within the US market alone. With this, GM was able to maintain the largest market share of 16.3% in the United States. However, it dropped by 1.0 percentage point as compared to the first half of 2015.
This drop in the company's market share was primarily attributed to planned lower fleet sales.
Continue to the next part of this series to learn how GM performed in markets outside North America.