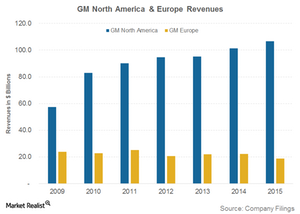 Key Geographical Markets for General Motors
Key geographical markets
Previously, we looked at the history of General Motors' (GM) key brand Chevrolet. Currently, GM has assembly, manufacturing, distribution, office, or warehousing operations in 59 countries. Now, let's take a look at some of the key geographical markets that contribute to the company's revenues.
Article continues below advertisement
GM North America
Since GM's beginning, North America has been its most important market. North America alone accounted for ~70% of GM's total revenues in 2015. In recent years, GM's revenues from North America have also risen. This was primarily due to a recent trend in the US auto market in which demand for pickup trucks surged over small car demand. Low gasoline prices and lower interest rates could also be key drivers behind this shift in the US auto demand pattern.
In North America, GM delivers vehicles under multiple brand names. Some of these key brands are Buick, Cadillac, Chevrolet, and GMC.
Outside of North America, General Motors delivers vehicles under brands such as Holden, Opel, and Vauxhall along with Buick, Cadillac, Chevrolet, and GMC.
GM Europe
Traditionally, Europe has also been a key market for General Motors. Note that General Motors Europe (or GME), as reported in its financial statements, also includes Russia. This region accounted for nearly ~12.3% of the company's total revenues in 2015. In recent years, the European economy has witnessed a slowdown that has also impacted GM's performance in the region.
In 2015, General Motors ceased manufacturing vehicles, eliminated Opel's distribution, and minimized Chevrolet's distribution in Russia. GM took these steps mostly due to high competition in the region along with the high capital investment required to localize the manufacturing of its vehicles. The company believed that its business model in Russia would not have been sustainable over the long term.
Other major automakers (XLY) that have significant presences in the European auto market are Volkswagen (VLKAY), Daimler (DDAIF), and Ford Motor Company (F).
Other than these two key markets, General Motors also has been working to address rising demand from emerging markets, especially from China. We'll discuss this in our next article.