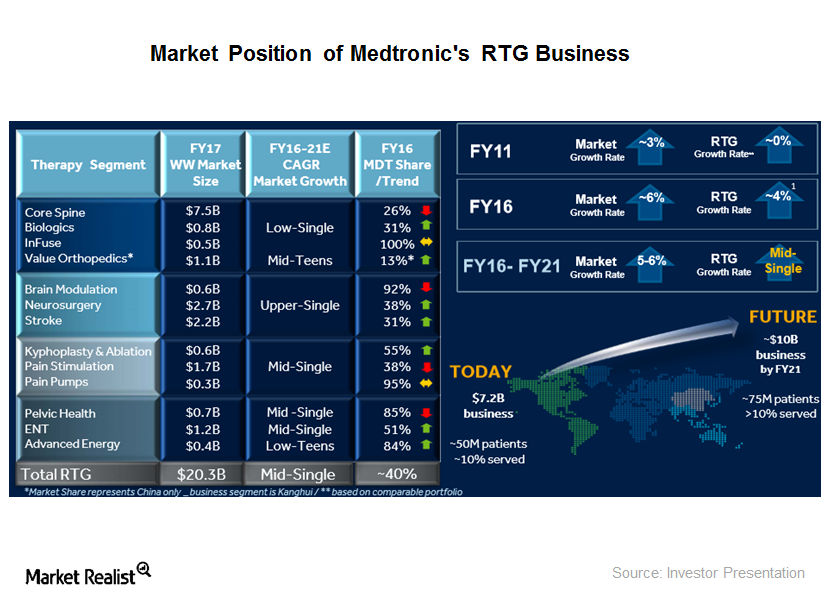 What Drives Medtronic's Restorative Therapies Group's Growth?
Overview
Medtronic's (MDT) Restorative Therapies Group (or RTG) segment, formed around seven years ago, has a strong market position today. However, although the company has very strong end markets in this segment, it has lost market share over the past few years. Therefore, the company has established key strategies to revive growth in the RTG segment, such as portfolio, leadership, and structural changes. Johnson & Johnson (JNJ), Boston Scientific (BSX), and Stryker (SYK) are Medtronic's key competitors in the restorative therapies market. The iShares Russell 1000 ETF (IWB) has a ~0.61% exposure to MDT.
Article continues below advertisement
Article continues below advertisement
RTG's market position and growth
The restorative therapies market grew by ~3% in fiscal 2011 and ~6% in fiscal 2016. Positioned for growth, Medtronic grew by ~4% in fiscal 2016 and estimates to be on track to achieving the targeted growth for its RTG segment. This growth was partially due to the addition of a neurovascular business through the acquisition of Covidien. Medtronic targets to achieve mid-single-digit growth in the RTG segment by fiscal 2021. New product introductions have been key growth drivers for Medtronic. Its Infuse, Zevo, Solera Voyager, and Elevate products have been some of the major contributors to the company's growth in fiscal 2016.
Market opportunities for growth
The restorative therapies market, which is estimated to be worth around $7.2 billion today and is expected to grow to $10 billion by fiscal 2021, creates many opportunities for expansion and growth for Medtronic. Amid the healthcare shift to value-based models, the company has evolved its business model and focused on providing innovative products and solutions to customers with higher efficiency and lower cost.