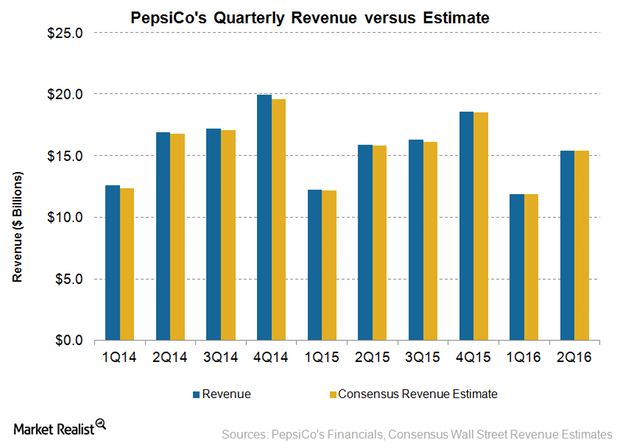 What Dragged down PepsiCo's 2Q16 Revenue?
2Q16 revenue down
PepsiCo's (PEP) revenue declined by 3.3% in 2Q16 ended June 11, 2016. The revenue decline in 2Q16 was larger than the 2.9% decline in 1Q16 but better than the 5.7% decline in 2Q15. The second quarter of fiscal 2016 marked the seventh consecutive quarter of revenue decline for PepsiCo. PepsiCo generated revenue of $15.4 billion in 2Q16, in line with Wall Street analysts' estimate.
Article continues below advertisement
Article continues below advertisement
What caused the revenue decline?
Adverse foreign currency fluctuations had a four-percentage-point impact on PepsiCo's revenue in 2Q16. The strengthening of the US dollar against major world currencies continues to impact PepsiCo's international revenue. In fiscal 2015, PepsiCo generated 56% of its revenue from the United States and the remaining from its international operations.
Aside from currency headwinds, PepsiCo's 2Q16 revenue also declined, due to the 2.5-percentage-point impact of the Venezuela deconsolidation. PepsiCo's nonalcoholic beverage peers Coca-Cola (KO), Dr Pepper Snapple (DPS), and Monster Beverage (MNST) are scheduled to report their 2Q16 results later this month. Coca-Cola, Dr Pepper Snapple, and Monster Beverage posted sales growth of -4%, 2.5%, and 15.9%, respectively, in 1Q16.
Organic revenue growth
In 2Q16, PepsiCo's organic revenue grew by 3.3% year-over-year. Organic revenue excludes the impact of foreign exchange translation and the impact of acquisitions, divestitures, and other structural changes.
The organic revenue growth in 2Q16 was driven by the company's Frito-Lay North America, AMENA (Asia, the Middle East, and North Africa), and Latin America segments. The iShares US Consumer Goods ETF (IYK) has a ~7% exposure to PepsiCo.
Fiscal 2016 revenue expectations
PepsiCo expects organic revenue growth of 4% in fiscal 2016. This estimate excludes the impact of the 53rd week in fiscal 2016 and structural changes. The company expects currency fluctuations to adversely impact fiscal 2016 net revenue growth by four percentage points. PepsiCo expects the additional 53rd week to contribute approximately one percentage point to its reported net revenue growth. We'll discuss the performance of the company's North America business in the next part of this series.