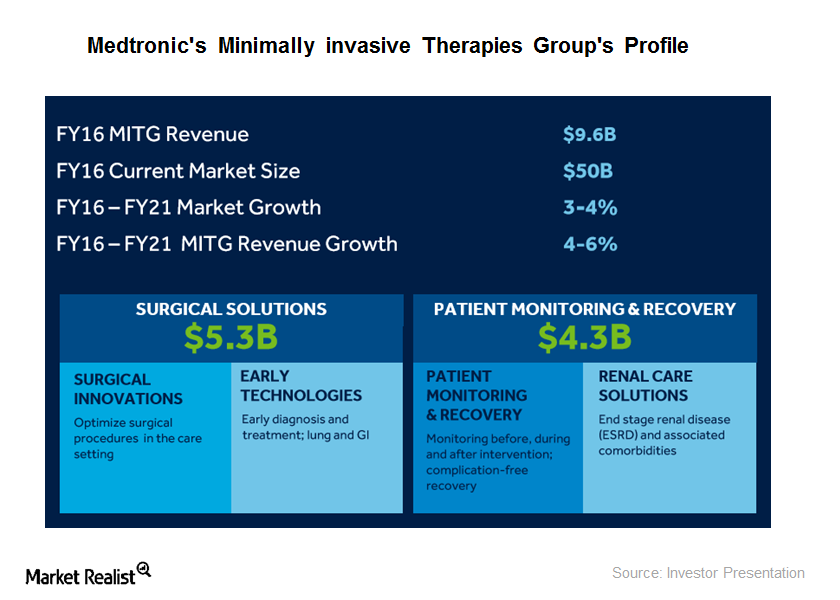 Medtronic's Minimally Invasive Therapies Group: Major Drivers
Overview
Medtronic's (MDT) Minimally Invasive Therapies Group (or MITG) business mainly comprises the segment gained through its acquisition of Covidien. The business segment has two business units: surgical solutions and patient monitoring. They generated revenues of around $5.3 billion and $4.3 billion, respectively, in fiscal 2016. The company plans to focus on growth in revenues and margin expansion in the MITG segment. Therapy innovation is a key strategy to achieve this aim. Johnson & Johnson (JNJ), Boston Scientific (BSX), and Edwards Lifesciences (EW) are Medtronic's major competitors in this market. Investors can get exposure to Medtronic's potential for growth by investing in the SPDR S&P Dividend ETF (SDY). SDY has a ~0.86% exposure to MDT.
Article continues below advertisement
Article continues below advertisement
Product pipeline
Medtronic plans to launch more than 80 products over the next three years. It expects to generate approximately $4 billion in revenues through the new products from fiscal 2017 to fiscal 2021.
Growth opportunities
The diagram above shows the company's segment-wise product launches. Medtronic's MITG segment is poised to grow through the opportunities in the market. The minimally invasive surgery market is currently worth $18 billion and is growing at a mid-single-digit growth rate. Medtronic is well-positioned to tap into this opportunity through new and innovative products and solutions. The company has entered into robotics, which enables it to offer more efficient and advanced minimally invasive surgery to its customers.