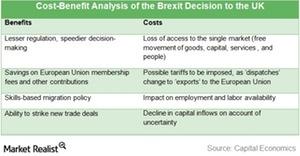 A Cost-Benefit Analysis of the Brexit Decision
Brexit has its own costs and benefits
To understand how the Brexit result stands to impact your portfolio or your willingness to invest in the United Kingdom, a cost-benefit analysis is pertinent.
Investors need to have a broader perspective when analyzing the short-, medium-, and long-term impacts of the Brexit decision on their investments in businesses operating in the area.
Investors in the iShares MSCI United Kingdom ETF (EWU) and the iShares MSCI United Kingdom ETF (VGK) should particularly consider all these aspects when reassessing their holdings.
While the Brexit decision stands to impact UK-based businesses such as British Petroleum (BP), Rio Tinto (RIO), AstraZeneca (AZN), and SABMiller (SBMRY), among others, it also spells change, which will be mostly unfavorable to multinational companies doing business in or with the United Kingdom.
Article continues below advertisement
Multifaceted impact
The impact of the United Kingdom's decision to exit the European Union is clearly multifaceted:
Changes in bilateral and unilateral trading rules with the United Kingdom are expected.
Changes in tariffs, custom duties, quotas, and more are expected.
The United Kingdom is expected to lose its single-market access.
Capital investments in the region will be affected.
Migration and labor will be affected.
The table above highlights the key expected costs and benefits of the Brexit decision. We'll discuss these points and more in detail as we move ahead in this series.
Let's first look at the key costs and risks, both business and economic, associated with the Brexit decision.