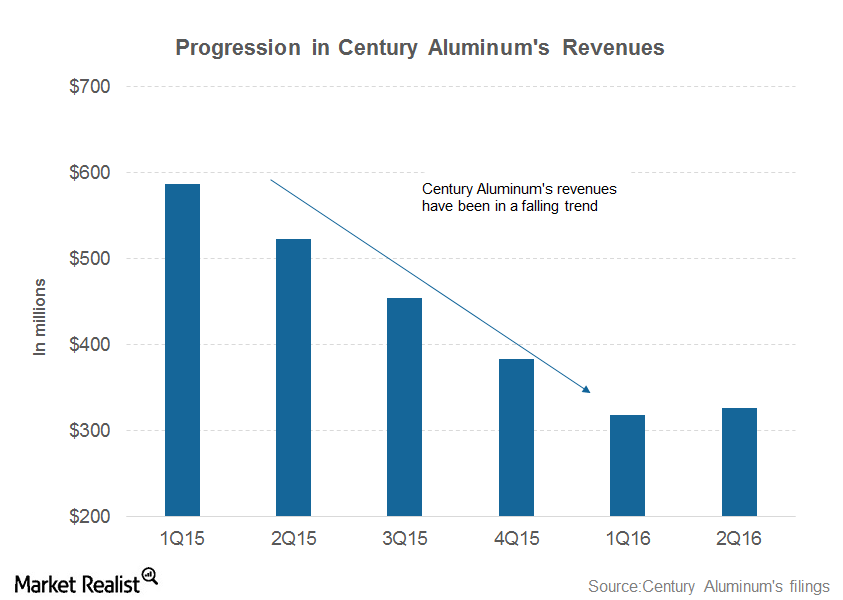 Century Aluminum Misses 2Q16 Revenues: Should You Be Concerned?
Century Aluminum's 2Q16 revenues
Revenues for commodity companies like Rio Tinto (RIO) and Norsk Hydro (NHYDY) are a function of commodity prices and shipments. In this part of the series, we'll explore the trend in Century Aluminum's (CENX) revenue.
Article continues below advertisement
Article continues below advertisement
Revenues rise
Century Aluminum reported revenues of $326 million in 2Q16. Analysts polled by Bloomberg expected the company to post revenues of $336 million during the quarter. However, the revenue miss shouldn't be a major concern given the company's performance on other metrics.
Notably, 2Q16 is the first time since 1Q15 that Century Aluminum's revenues registered a sequential increase. The increase in revenues was led by a combination of more shipments and higher commodity prices (GCC). The company shipped 185,567 metric tons of aluminum in 2Q16—a quarter-over-quarter increase of 1.6%. Average aluminum prices were also higher in 2Q16—compared to the sequential quarter.
Outlook
Revenues of US-based aluminum producers including Century Aluminum and Alcoa (AA) have been impacted negatively in recent quarters due to lower shipments. Both of these companies have closed their high-cost smelters in a bid to remain competitive in the current pricing environment. However, we might have seen the worst of falling shipments for these companies at least in the near-term.
The reasoning is basically two-fold. First, both of these companies have already shut their high-cost facilities. They managed to negotiate fresh power supply agreements to keep some of their other facilities running. Second, aluminum prices have been strong this year partially due to fewer Chinese exports. We might not see more curtailments from US-based smelters unless aluminum prices crash.
Meanwhile, along with revenues, you should also keep track of Century Aluminum's profitability metrics. In the next part of the series, we'll see if Century Aluminum was able to make some money in this depressed pricing environment.