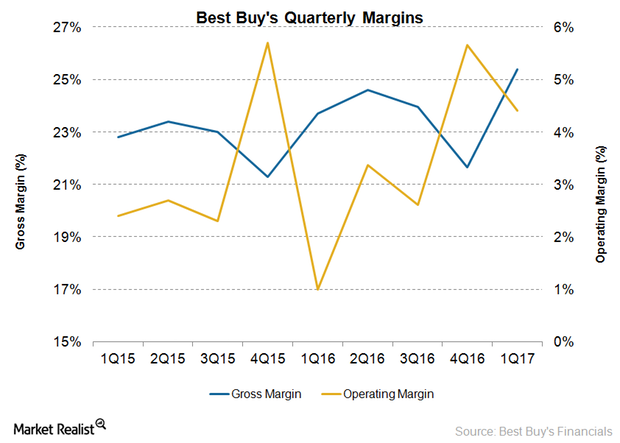 Can Best Buy's Margins Improve amid Challenging Conditions?
Tough market
Best Buy's (BBY) business has been under pressure due to intense competition from Amazon (AMZN) and weakness in categories such as mobile phones and tablets.
The company is trying to mitigate the impact of a weak top line by implementing several cost control and productivity measures under its Renew Blue program.
Article continues below advertisement
Margins in the previous quarter
Despite lower sales, Best Buy's gross margin improved from 23.7% in fiscal 1Q16 to 25.4% in fiscal 1Q17. The improvement in gross margin was seen across the company's domestic and international divisions.
Best Buy's operating margin in fiscal 1Q17 improved to 4.4% from 1% in 1Q16. This improvement was mainly driven by the elimination of expenses associated with the Canadian brand consolidation and the favorable impact of foreign exchange rates.
In March 2015, the company consolidated its Future Shop and Best Buy stores and websites in Canada under the Best Buy brand.
In the comparable first quarter, operating margins of specialty retailers GameStop (GME), Aaron's (AAN), and Conn's (CONN) were 5.8%, 10.1%, and 3.3%, respectively.
Best Buy constitutes 0.2% of the iShares Global Consumer Discretionary ETF (RXI).
Productivity measures
In 2015, Best Buy announced its Renew Blue Phase 2 cost reduction and gross profit optimization program. This program aims to generate savings of $400 million over three years, in addition to the $1 billion costs that the company eliminated under Phase 1.
In fiscal 2016, the company achieved $150 million of its cost reduction goal. The company's productivity efforts in fiscal 2016 comprised the Canadian brand consolidation, including the closure of 68 stores.
In fiscal 1Q17, the company eliminated and simplified certain components of its operations. Best Buy also restructured certain field and corporate teams as part of its Renew Blue Phase 2 program. In fiscal 1Q17, the company achieved cost savings of $50 million under the Phase 2 program.
Given the softness in the consumer electronics industry, Best Buy plans to control its costs and streamline its operations.
We'll discuss the movement in Best Buy's stock price and analyst recommendations in the next part of this series.