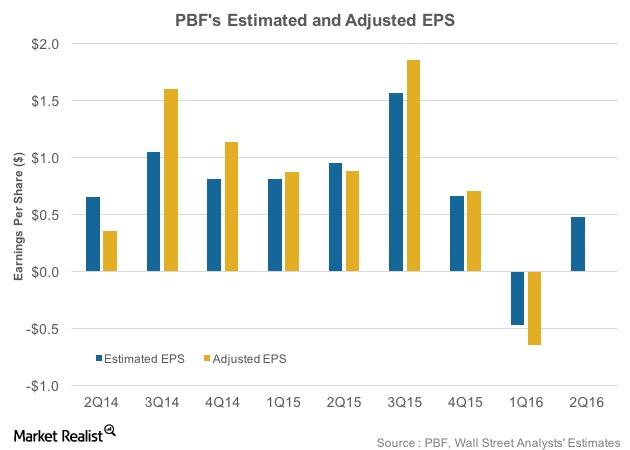 What Do Analysts Expect from PBF Energy's 2Q16 Earnings?
PBF Energy's 1Q16 performance
PBF Energy (PBF) is expected to post its 2Q16 results on July 29, 2016. Before we proceed with 2Q16 estimates, let's recap PBF's 1Q16 performance versus estimates.
In 1Q16, PBF Energy's revenues surpassed Wall Street analyst estimates by 12%. But PBF's 1Q16 adjusted EPS (earnings per share) stood at -$0.65, as compared to the estimated EPS of -$0.47. This difference was due to a steep fall in refining margins.
PBF's adjusted operating income fell to -$64.5 million in 1Q16 compared to $151.2 million in 1Q15. The operating income was adjusted for special items like an after-tax inventory gain of $35.7 million due to lower costs or market valuations.
Article continues below advertisement
Also, PBF's adjusted net income, excluding special items, stood at -$66.5 million in 1Q16, as compared to $79.3 million in 1Q15. This difference was due to subdued performance in the refining segment, which was partly offset by better logistics segment performance. PBF's refining margin contracted by 53% from 1Q15 to $5 per barrel in 1Q16.
PBF Energy's 2Q16 earnings estimates
In 2Q16, Wall Street analysts expect PBF Energy (PBF) to post EPS of $0.48. Comparatively, PBF's adjusted EPS stood at $0.88 in 2Q15. PBF's revenues are estimated to be around $3 billion in 2Q16, or 13% lower than its 2Q15 revenues.
PBF's peers Tesoro (TSO), HollyFrontier (HFC), and Western Refining (WNR) are expected to post EPS 60%, 71%, and 60% lower in 2Q16, respectively, as compared to 2Q15. Notably, the PowerShares Dynamic Large Cap Value Portfolio (PWV) has ~5% exposure to energy sector stocks.
PBF's refining earnings are likely to improve in 2Q16 over 1Q16. This is due to better refining cracks. The margin indicators of major US refiners have also shown improvement in 2Q16. We'll discuss this in the next part of this series.