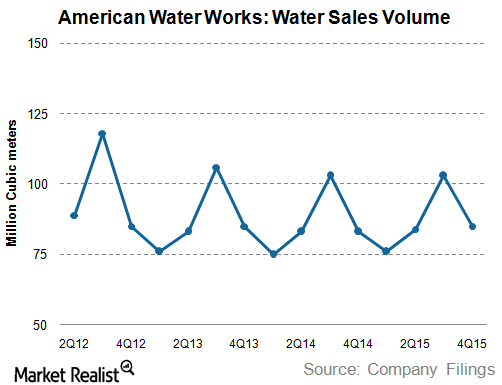 How Are American Water Works' Sales Volumes Trending?
Water sales volume
American Water Works (AWK) witnessed a sharp decline in its water sales volumes after 2010 despite a population increase and economic growth. American Water Works increased its customer base and grew its asset base to maintain sales. The chart below shows American Water Works' quarterly water sales volumes.
Article continues below advertisement
O&M efficiency ratio
American Water Works continued its improvement on the regulated operations front. Its O&M (operations and maintenance) efficiency ratio was near 37% in 2014 and it plans to reduce it to 34% by 2020.
The O&M efficiency ratio is an important metric to measure utilities' (CGW) (FIW) performance. It's derived by dividing regulated operations and maintenance expenses by regulated operating revenues.