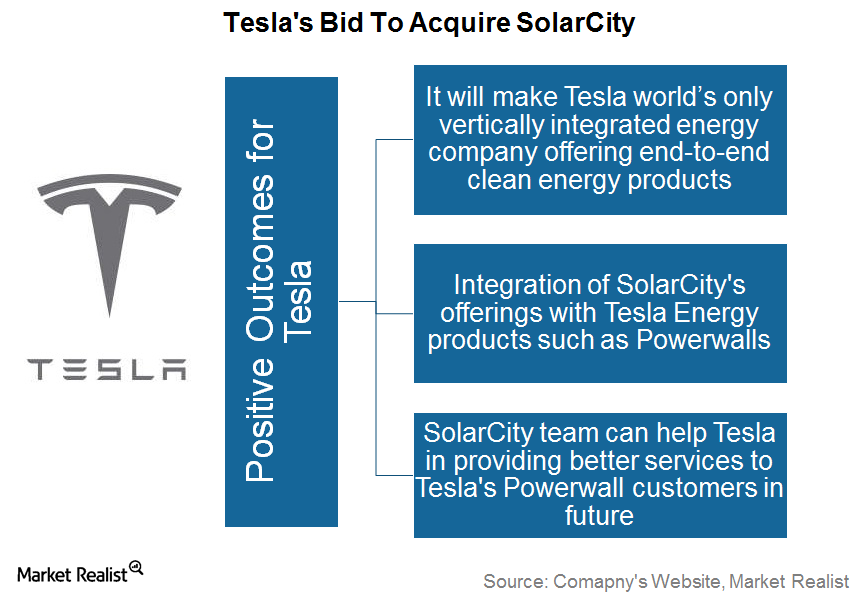 Why Tesla's SolarCity Acquisition Could Pay Off
Tesla's SolarCity acquisition bid
According to Tesla's (TSLA) SolarCity acquisition proposal, it's ready to pay $26.50 to $28.50 per share for SolarCity. Even after rising on the acquisition announcement, SolarCity's stock that has plunged by 57.1% year-to-date, as of June 22, 2016. Notably, SolarCity's (SCTY) stock closed at $21.88 on June 22, 2016, with 3.3% gains for the session.
Now let's look at the positive outcomes that Tesla expects out of this acquisition.
Article continues below advertisement
What Tesla aims to achieve
According to Tesla's official blog, with this deal, the company intends to become the "world's only vertically integrated energy company offering end-to-end clean energy products." This implies that Tesla wants to offer a variety of sustainable energy-based products under one brand.
The deal could benefit Tesla in expanding its business and reach with various sustainable energy products under one brand. This won't be the first time an automaker has tried to diversify its business. Japanese automaker (XLY) Honda Motor (HMC) also offers a variety of power products including generators, tillers, engines, lawn mowers, snow blowers, and pumps. However, Honda's revenue from these products is very small as compared to revenue from its automotive segment. However, these products certainly help Honda to expand its brand presence and reach.
Beneficial for Tesla Powerwalls?
Tesla launched its Powerwall, a part of its Tesla Energy product portfolio, in 2015. Powerwall is a wall-mounted rechargeable energy storage device that can be used to store solar or grid energy and power homes at night. Tesla expects to begin mass production of its Powerwalls after the completion of its Gigafactory.
Notably, the grand opening event of Gigafactory is likely to take place on July 29, 2016. However, it will take more than a year for the Gigafactory to start running at full capacity. The Gigafactory is being built in partnership with Panasonic (PCRFY). By acquiring SolarCity, Tesla could integrate the technology and products that SolarCity currently offers with Tesla Energy products.
Moreover, it doesn't sound like a bad idea to have all these energy products under the same roof. But the key question is, was it the right time for Tesla to shift its focus from Model 3 to other products? We'll discuss more on this in the next part of this series.