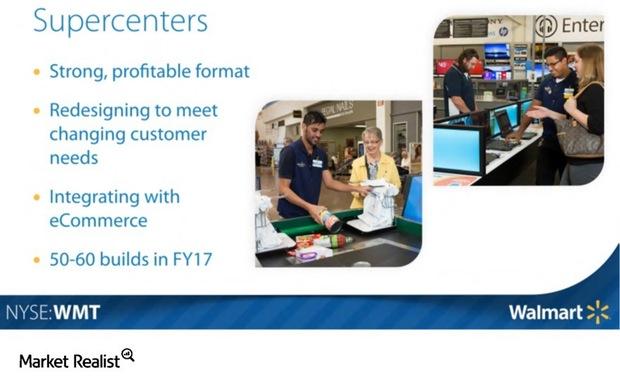 Is Walmart's Supercenter Format Its Most Successful Retail Foray?
The expanding footprint of Walmart's supercenters
At the end of March 2016, Walmart (WMT) had a total of 3,470 supercenters in the Walmart US segment. As discussed in the last article, the company plans to open about 50–60 new supercenters in the US (SPY) market in fiscal 2017, which is the current fiscal year.
This increase builds on the 55 supercenters opened last year, as well as the 79 supercenters the company opened in fiscal 2015. Walmart has also been converting the discount stores in its retail fleet to the larger and more efficient supercenter format. The company believes the latter format has more favorable economics.
Article continues below advertisement
Article continues below advertisement
Walmart's CEO, Doug McMillon, noted during the 2016 shareholders' meeting, "The supercenter format is a great format. When it's run well, it will generate attractive returns and drive growth. And of all the brick-and-mortar retail formats that are out there, that's the one we'd want, and we want to make the most of it.
"But there's a certain formula that makes them work. And what we've been doing is to shift to that formula that we know will deliver the productivity loop. So we had to make some investments upfront."
Merchandise advantage
Walmart's supercenter format is also likely to provide several advantages to the retailer. The number of SKUs stocked is comparatively higher than the competition—120,000 SKUs (stock keeping units) at a typical supercenter versus 3,700 at rival Costco (COST).
The SKU numbers are also relatively higher compared to retailers like Target (TGT), Kroger (KR), Whole Foods Market (WFM), and Dollar Tree (DLTR). Plus, several supercenters are open 24/7, underscoring their one-stop convenience to shoppers.
Omni-channel features
Supercenters are more likely to double as fulfillment centers as Walmart widens its omni-channel capabilities. They are likely to provide the company with economies of distribution.
Walmart is expected to expand its grocery pickup service to 40 US markets by the end of July 2016. It is also adding more retail outlets to its distribution network. We'll discuss Walmart's omni-channel and e-commerce initiatives in greater detail later in the series.
These factors enable Walmart to dominate the retail landscape in square footage where the supercenters are located. According to the US Department of Agriculture, the rise of Walmart's supercenter format has led to increased levels of concentration in the US grocery market.