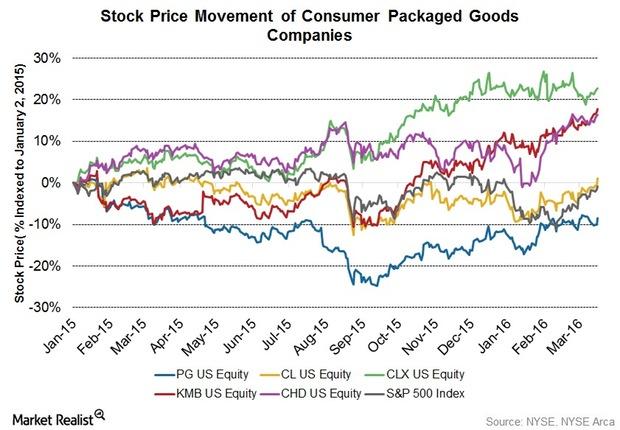 Valuation Multiples Higher for Consumer Packaged Goods in 1Q16
Relative valuation
Consumer packaged goods (or CPG) companies are trading at higher valuations compared to the S&P 500 Index (IVV) (SPY) (VOO) and the Dow Jones Industrial Average (DIA). Procter & Gamble (PG) and Kimberly-Clark (KMB) are trading at PE (price-to-earnings) multiples of 21.6x and 21.5x forward earnings, respectively.
In comparison, the S&P 500 Index and the Dow Jones Industrial Average are trading at forward PE multiples of 17.7x and 16.5x, respectively. All valuations are as of June 16, 2016.
Despite foreign currency impacts faced by Procter & Gamble in 1Q16, its valuation has risen 6.5% since January 2015. PG's sales growth has declined 6.9%, which is largely due to currency headwinds.
Similarly, Kimberly-Clark's valuation has risen 11.4% since the start of 2015, despite a stronger US dollar. This was primarily due to volume growth in North America driven by Viva and Scott paper towels and Kleenex facial tissue.
Colgate-Palmolive is trading at a PE multiple of 24.9x forward earnings. Its valuation has risen 11.2% since 2015. This was due to a unit volume increase of 4% in the Asia region led by the Greater China region, India, and the Philippines.
Article continues below advertisement
Higher valuation for Church & Dwight and Clorox
Church & Dwight (CHD) and Clorox (CLX) are trading at PE multiples of 27.6x and 26.0x forward earnings, respectively. Their valuations are higher than their peers since both companies delivered strong 1Q16 results and have higher sales growth of 4.5% and 1.8%, respectively. The valuation for CHD has risen 15.5%, while Clorox's has risen 14.5% since the beginning of 2015.
Rising disposable income
As the industry struggles with the impact of a stronger US dollar, higher pricing in developing economies has offered better prospects. A growing population and rising disposable incomes in emerging markets act as a top-down growth catalyst for the industry.
In the next part of the series, we'll look at growth initiatives for CPG companies.