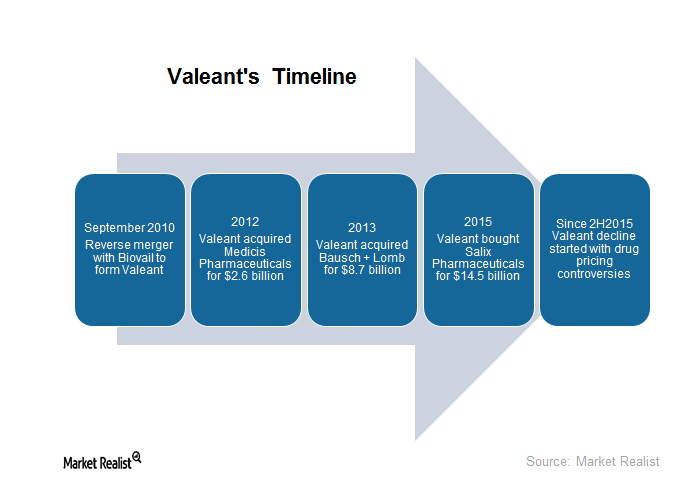 Valeant Pharmaceuticals: An Inorganic Growth Story
Valeant's history
In 1994, ICN Pharmaceuticals, ICN Biomedicals, SPI Pharmaceuticals, and Viratek merged to form ICN Pharmaceuticals, Inc. In 2003, it changed its name to Valeant Pharmaceuticals International.
In September 2010, Biovail, a Canadian pharmaceutical company, acquired Valeant, and the combined entity retained the name Valeant Pharmaceuticals International. Valeant then shifted its headquarters from the United States to Canada.
Article continues below advertisement
Growth through acquisitions
Valeant Pharmaceuticals International (VRX) has grown inorganically through highly leveraged acquisitions. From 2008 to 2015, it acquired more than 100 companies. Some of its major acquisitions include the following:
2008: Coria Laboratories; DermaTech
2009: Dow Pharmaceutical Sciences; Tecnofarma; Laboratoire Dr. Renaud
2010: two Brazilian generics and over-the-counter companies; Aton Pharma
2011: PharmaSwiss SA; Ortho Dermatologics; iNova, which expanded its presence in Australia, Asia Pacific, and South Africa; Dermik, a dermatology unit of Sanofi (SNY); AB Sanitas; and Afexa Life Sciences
2012: OraPharma; assets from Swiss Herbal; University Medical; Gerot Lannach; Atlantis Pharma; Medicis Pharmaceuticals
2013: Natur Produkt International; Obagi Medical Products; Bausch + Lomb
2014: Solta Medical; PreCision Dermatology
2015: Dendreon; Salix Pharmaceuticals
In 2014, Valeant failed to acquire Allergan (AGN), which was later bought by Actavis (ACT).
After 2015, Valeant began to fall after controversy arose about price gouging and Valeant's relationship with Philidor, an online pharmacy. For details on these controversies, please refer to Will Valeant's Share Price Recover from the Recent Fall? and Has Valeant Gone Bottom Fishing?
For exposure to Valeant, you can invest in the VanEck Vectors Pharmaceutical ETF (PPH). PPH holds 1.6% of its assets in Valeant.
In the next part of this series, we'll look at the rise and fall of Valeant, which was once a Wall Street favorite.