Understanding the Impact of Hours-of-Service Rules on Truckload Carriers
In July 2013, the FMCSA of the US Department of Transportation extended safety regulations regarding truckload drivers' hours of service.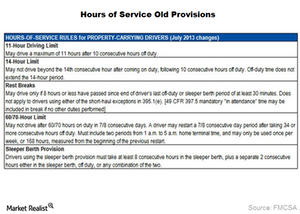 Hours-of-service rules
In July 2013, the FMCSA (Federal Motor Carrier Safety Administration) of the US Department of Transportation extended safety regulations regarding truck drivers' hours of service. The hours-of-service regulations require commercial truck drivers to comply with required periodic breaks and restrictions on driving time.
But the supply chain in the transportation and logistics industry depends on hours spent by a truck driver behind the wheel. Any attempts to reduce those hours can negatively impact a truck driver's earnings, given most truckload companies' pay structures. This can also result in delayed deliveries, which can raise the costs of goods for shippers.
Article continues below advertisement
Article continues below advertisement
Important changes in safety regulations
Regulatory changes have affected most drivers and carriers. For example, the definition of "off-duty time" was widened to include other activities, resulting in the creation of a higher flexible break requirement. These activities included resting in a parked vehicle when relieved of all duties and riding in the passenger seat of a moving, merchandise-carrying commercial vehicle for up to two hours. Additionally, now, a 30-minute safety break is required if a driver has not taken at least 30 minutes of "off-duty" or "sleeper-berth time" in the past eight consecutive hours.
Stifel, Nicolaus & Company suggested that these hours-of-service safety regulations are suppressing trucking capacity by 2%–3%. In a study conducted in August 2014, BB&T suggested that hours-of-service regulations had a significant impact on mileage productivity, adding that 45% of fleets surveyed suffered a mileage productivity fall of 5%–8%.
Article continues below advertisement
Electronic logging device
The transportation industry is also subject to other regulatory and legislative changes, including environmental precautions and limits on vehicle weight and size. In December 2015, the FMCSA instituted another rule requiring logging drivers to complete their logs using an ELD (electronic logging device), which it will require of all carriers by December 10, 2017.
Companies like J.B. Hunt Transport Services (JBHT) and Werner Enterprises (WERN) have installed ELDs in more than 95% of their fleet. Knight Transportation (KNX) and Swift Transportation (SWFT) have installed the LEDs in their complete tractor fleet.
Related ETF
Among the major transportation and logistics sector ETFs, the iShares Transportation Average ETF (IYT) invests ~11% in trucking and 8% in shipping companies.
Notably, the Truck Tonnage Index has tanked for the third time in 2016. We'll explore what this means in the next part.