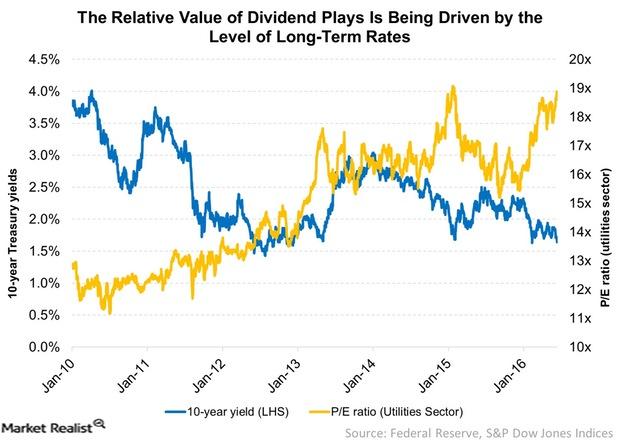 How do Treasury Yields Explain the Variation in Utility Stocks?
By Russ Koesterich, CFA

Jun. 23 2016, Updated 4:05 p.m. ET
Instead, the rise in the relative valuation of utility companies, along with other yield plays, can largely be attributed to investors' quest for increasingly scarce yield. The utility sector's current yield is roughly 3.5 percent, not particularly generous by historical standards, but is about twice the level available from a 10-year Treasury bond, as data from Bloomberg shows.
This is important as the relative value of dividend plays is more and more being driven by the level of long-term rates. In recent years this relationship—yield vs. valuation—has come to dominate how many of these stocks trade. According to my analysis, since the financial crisis the yield on a 10-year U.S. Treasury note explains roughly 65 percent of the variation in the relative value of the utility sector.
Article continues below advertisement
Market Realist – Treasury yields explain the variation in utility stocks
The graph above shows the ten-year Treasury (IEF) yield, along with the PE (price-to-earnings) ratio of the utilities sector (IDU). As you can see, the two have a strong negative correlation. That correlation has strengthened since December 2015. Since then, the correlation between ten-year yields and the PE ratio of the utilities sector has been -0.8.
Since December, ten-year Treasury yields have fallen by 2.1% to 1.6%. Meanwhile, the utilities have seen a massive multiple expansion. The sector's PE ratio has surged by 22%. As bonds offer lower and lower yields, investors opt for utilities, which offer the best dividend yield within the S&P 500 (IVV) sectors.
However, defensive sectors tend to outperform cyclicals when volatility (VXX) spikes. If Britain votes to leave the Eurozone (EZU), we are likely to see another bout of volatility in the very short term. In this case, hanging on to utilities and other defensives could be a good idea. However, in the medium term, utilities appear unattractive, as discussed in the previous part of this series.