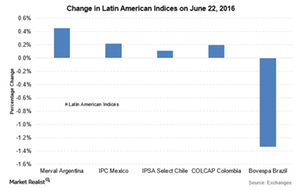 Colombia Central Bank Hikes Rates by 25 Basis Points on June 22
By David Meyer

Jun. 23 2016, Updated 5:39 p.m. ET
Colombian central bank hikes rates to curb high inflation
The central bank of Colombia increased interest rates on June 22, 2016, by 25 basis points to 7.5%, which was in line with expectations. This was its tenth consecutive hike in benchmark rates.
The central bank is looking to tighten the country's monetary policy in order to curb rising inflation levels.
Prices in Colombia grew by 8.2% in May, which was the fastest pace in the last 15 years. The iShares Latin America 40 ETF (ILF) ended 0.20% higher on June 22 while the broad-based iShares MSCI Emerging Markets ETF (EEM) ended lower by 0.53%.
Latin indexes were trading higher except the Brazilian Bovespa on June 22.
Article continues below advertisement
Central Bank of Thailand keeps rates constant despite sluggish price growth
The central bank of Thailand kept its interest rates unchanged on June 22 as global financial markets got ready for the Brexit vote on June 23. Despite Thailand's low inflation, the country's policymakers have been reluctant to ease the monetary policy.
However, the Federal Reserve's decision to keep rates unchanged has increased the scope for central banks in emerging market economies to cut interest rates without worrying about potential outflows from equity markets.
The iShares MSCI Thailand Capped ETF (THD) ended 2.4% lower on Wednesday, June 22, while the iShares MSCI All Country Asia Ex-Japan ETF (AAXJ) was trading lower by 0.3% on the same day.
Unemployment rate in Taiwan releases slightly above forecasts
The unemployment rate in Taiwan released at 3.96% for May in comparison to 3.97% in April. The market consensus stood at 3.95%.
The number of Taiwan's jobless workers fell from 451,000 in April to 449,000 in May. The iShares MSCI Taiwan ETF (EWT) ended 0.43% lower on June 22.