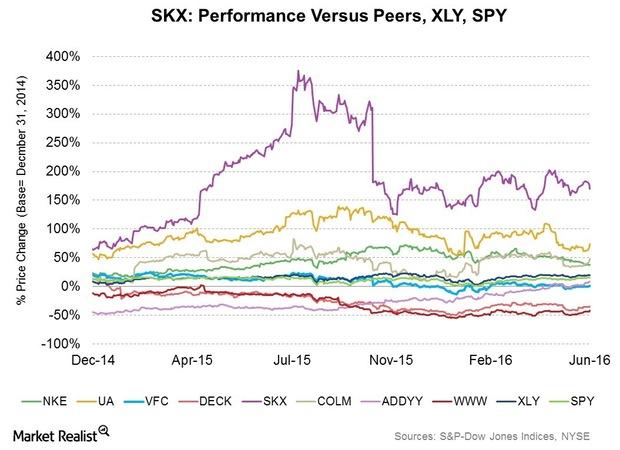 Comparing Skechers' Strengths and Weaknesses
Skechers' strengths: Market share
Skechers (SKX) is one of the fastest-growing athletic footwear brands in the world. The company also has several product lines catering to a vast cross-section of the population.
As a result, SKX has been enjoying a higher incidence of full-price sales (XLY) in a relatively competitive market. Skechers has gained market share in the last few quarters. It was ranked as the number two footwear brand in the United States in 2015.

Article continues below advertisement
Article continues below advertisement
Distribution and geographic diversification advantages
Skechers is quickly establishing its presence in international markets. Skechers made $3.1 billion in sales in 2015, of which 40.4% stemmed from overseas markets. The company's operations are more geographically diversified compared to other companies in the athletic footwear and activewear space, including Lululemon Athletica (LULU) which made $2.1 billion in sales in fiscal 2016, and Under Armour (UA), which saw sales of just under $4 billion in 2015.
Just 6.6% of LULU's sales came from outside the United States and Canada last year. UA derived 82.5% of its net revenue from the United States last year.
In contrast, international sales constituted 36% of VF Corporation's (VFC) sales and 37.4% of Columbia Sportswear's (COLM) sales in 2015. Despite their seemingly high number, most of VFC's overseas sales stemmed from Western Europe.
Foreign exchange exposure
Skechers is also more exposed to adverse foreign exchange movements and economic developments abroad due to its higher overseas exposure. This could materially affect sales and earnings, as Skechers soon hopes to earn about 50% of its sales from foreign markets.
Skechers' products are known more for their casual appeal than for their athletic performance, which puts it at a disadvantage compared to more entrenched companies such as Nike (NKE) and Adidas (ADDYY). While the company has several performance footwear lines, their sales are comparatively low.