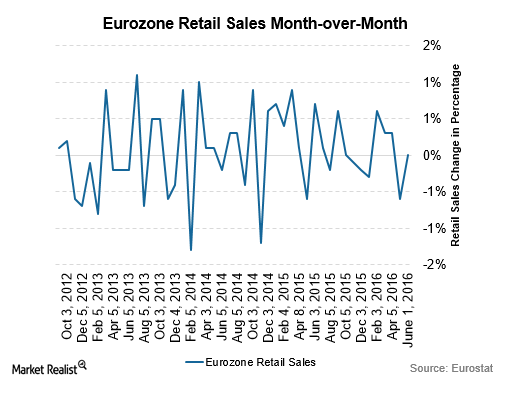 Eurozone's Subdued Retail Sales and Services PMIs Add to Worries
Eurozone economy registered subdued growth in May
Markit reported that the Eurozone's (VGK) services purchasing managers' index (or PMI) was 53.3 in May, slightly above the forecast of 53.1. The Eurozone's composite PMI came in at 53.1.
Ireland registered the highest PMI among Eurozone countries at 59.1. France's and Italy's (EWI) PMIs were slightly lower at 50.9 and 50.8, respectively.
Article continues below advertisement
Retail sales remained stable
The Eurostat released the Eurozone's (DFE) retail sales data for April on June 4, 2016. The region's retail sales remained unchanged. Denmark and Poland registered the highest month-over-month rises at 4.5% and 3.7%, respectively.
The biggest falls in retail sales were recorded in Finland and Germany (EWG), where sales fell by 1.2% and 0.9%, respectively.
United Kingdom's services PMI beat forecast
The United Kingdom's (EWU) services growth picked up in May compared to April, when it had been at a 38-month low. The service sector's PMI came in at 53.5 against a forecast of 52.3.
Even after the slight pickup, the overall picture looks bleak for the United Kingdom. The rate of hiring growth is currently at a 33-month low, and new business growth saw its slowest rise in nearly 41 months.
Business sentiment improved to a ten-month high, but companies commented that this positive sentiment was the result of the Brexit referendum's turning in their favor.