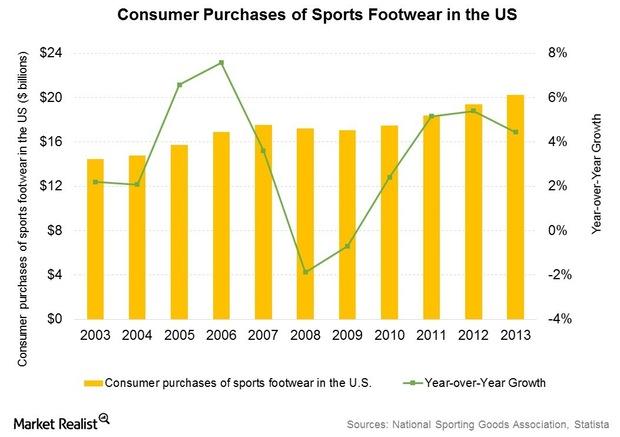 Why Skechers Is Thriving in a Competitive Footwear Market
Analyzing Skechers' competitive positioning
The athletic footwear market is highly fragmented both in the United States and abroad. Skechers (SKX) competes in a number of footwear segments catering to a wide customer demographic ranging from toddlers to baby boomers.
The company's products include walking footwear, kids' footwear, performance footwear, and footwear for work, among other lines. Last year, Skechers introduced a new line of Golf footwear, the GO GOLF line. As a result, the company's competitors are a diverse lot:
Article continues below advertisement
Article continues below advertisement
Nike (NKE), Adidas (ADDYY), New Balance, ASICS (ASCCF), and Under Armour (UA) compete with SKX in terms of performance and training footwear.
VF Corporation (VFC), Steve Madden (SHOO), Kenneth Cole, and Wolverine Worldwide (WWW) compete with SKX in terms of casual shoes.
Market share analysis
The US market for athletic footwear was estimated at $17.2 billion in 2015 by the NPD Group, growing (IJH) 8.2% over 2014. As one of the smaller players in the athletic footwear industry, Skechers faces tough competition from larger rivals Nike, Adidas, and Puma (PMMAF) (PPRUF) (PPRUY).
That being said, Skechers grabbed the number two spot in the footwear market in the United States last year. The company's brands were also ranked number one in the walking and work footwear categories.
Article continues below advertisement
Skechers, which saw global sales of $3.1 billion in 2015, currently derives a greater percentage of its sales from the US market, though the mix is quickly tilting in favor of international sales. The company competes on the basis of comfort, quality, and the creation of brand value for its products. The company has been around for 24 years. It prides itself on its casual and trendy image, which is prized by kids, teens, and tweens.
According to David Weinberg, chief financial officer and chief operating officer of Skechers, "Our goal is to continue to develop innovative footwear and remain top of mind and drive purchase intent and we are doing so with a 360 degree approach to marketing covering in store, digital television, print outdoor, social media and events."
Before we discuss Skechers' marketing strategies, we'll analyze the differential product approach applied by the company.