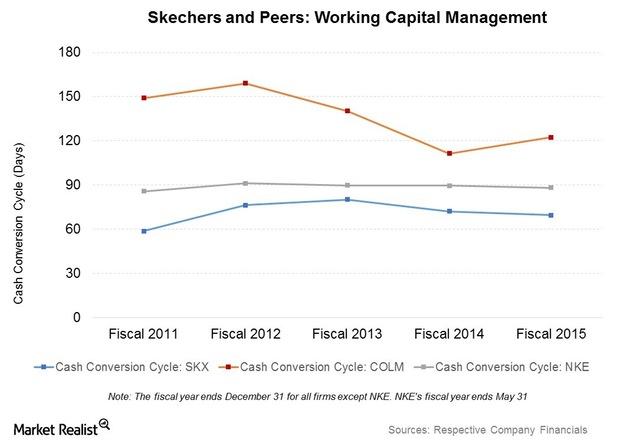 Skechers Footwear: Design, Sourcing, and Manufacturing Overview
Analyzing Skechers' design and manufacturing practices
Skechers (SKX) designs footwear with its own in-house design team. However, the second-largest US (FNX) footwear company in terms of sales doesn't own or operate any factories in which to conduct its manufacturing. The company outsources its manufacturing to independent contractors.
Most of these factories are located in China and Vietnam. According to Skechers, this enables a lower amount of capital investment while providing greater flexibility in manufacturing and a higher production capacity.
Article continues below advertisement
Supplier dependence
At the same time, this system has resulted in some degree of dependence on manufacturers. Skechers' largest footwear supplier accounted for 31.5% of the company's purchases in 2015. Its five largest manufacturers accounted for 56.5% of the company's purchases.
Skechers doesn't have long-term contract agreements with any of its manufacturers, but it does have long-standing relationships with several of them, which provides continuity and product reliability.
Skechers monitors production practices with the help of its in-house production teams in the United States, China, and Vietnam. It also exercises quality control with the help of inspection teams in China and Vietnam.
China and Vietnam are the two largest exporters of apparel and footwear to the United States. A number of companies in the athletic apparel and footwear industries, including Nike (NKE), Under Armour (UA), Lululemon Athletica (LULU), and Columbia Sportswear (COLM), also have contract manufacturers located in these countries.
Recent manufacturing trends
Most companies in the industry conduct the bulk of their manufacturing abroad in low cost countries, though this trend is undergoing a shift.
Companies such as Adidas (ADDYY) are looking at moving manufacturing closer to markets in a bid to capture fast-changing customer trends.
Some of Adidas' products are manufactured in Germany. Adidas' Speedfactory is a scalable concept that could manufacture in several locations, including company-operated retail stores and other sporting events.