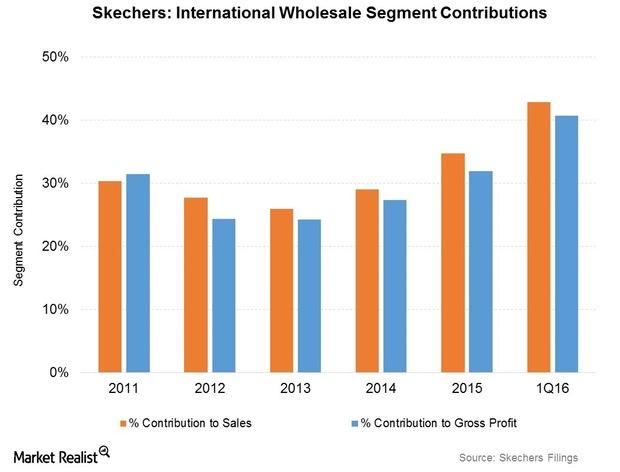 Why Skechers Is Expanding Distribution in Key Overseas Markets
An overview of Skechers' largest reporting division
Skechers (SKX) products are sold in about 160 countries. The company's international wholesale segment was its fastest-growing segment from 2011 to 2015.
The segment comprises sales made to other retailers such as Intersport, e-retailers in markets outside the United States via Skechers' directly-owned overseas subsidiaries, and sales to distributors. The segment's results also include royalty income received from licensees.
Article continues below advertisement
Exponential growth
The international wholesale segment's contribution to Skechers' revenue rose steadily from 25.9% in 2013 to 34.8% in 2015. Skechers has been aggressively expanding its distribution points in overseas markets.
Sales from the international wholesale segment rose 58.8% year-over-year (or YoY) to $1.1 billion in 2015. The increase came about due to the strong performances of the company's wholly-owned subsidiaries in the United Kingdom, Germany, and Spain, as well as due to a good showing in SKX's China and Hong Kong joint ventures.
Lines with strong sell-throughs included the Women's GO, Men's GO, Women's Active, and Men's and Women's Sport Lines. Skechers also reported strong sales to distributors in South Korea, the United Arab Emirates, Australia, New Zealand, and Turkey. Sales to distributors rose nearly 70% in 2015.
In 1Q16, the international wholesale segment became the company's largest segment, accounting for 42.9% of its total sales. The segment's sales rose 47.1% YoY to $420 million. The company aims to take the segment's contribution to 50% of its total sales in the future.
Skechers' competitors Nike (NKE) and Under Armour (UA) report sales to wholesalers on a consolidated basis. Sales from the wholesale channel represented 76.5% of total sales for Nike and 67% of total sales for Under Armour in their last respective fiscal years. Footwear company Deckers Outdoors (DECK) derived 66% of its sales from the wholesale channel in fiscal 2015.
NKE, UA, and SKX together constitute 1% of the holdings of the First Trust Consumer Discretionary AlphaDEX ETF (FXD). NKE and UA also make up 3.9% of the portfolio weight of the Consumer Discretionary Select Sector SPDR ETF (XLY).