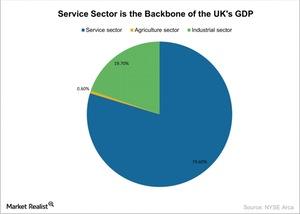 Which Sectors in the UK Will the 'Brexit' Decision Affect Most?
Sector affected by "Brexit"
In the UK, the metal and energy sectors have seen a lot of volatility during the past year. On a YTD (year-to-date), these industries recovered, but the financial sector has fallen both in the past year and YTD.
The UK's 2015 GDP (EWU) (DXPS) by sector shows that the agriculture sector contributed 0.6%, the industrial sector contributed 19.7%, and the service sector contributed 79.6%. Thus, the service sector is the major driver of the economy, but the financial sector has also contributed heavily to the UK's economy. Financial institutions such as HSBC (HSBC) and Barclays (BCS) will likely be more affected by doing business in the EU (EZU) (VGK) after the UK officially exits the EU.
Article continues below advertisement
Trade relations
In 2014, the EU accounted for 54% of the total trade in goods and services of the United Kingdom. Germany is the UK's biggest trading partner, both in the EU and globally. The UK's total trade with Germany stood at $155.2 billion in 2014.
The UK's relevance in the EU can be understood by the fact that among its top ten trading partners, eight belong to the EU. Its total trade with the EU stands at about $602.4 billion, and the UK's total trade with the EU grew at an average rate of ~4.6% from 2011–2014. Notably, the UK's top exports in goods include automobiles and petroleum products. (Check out "The UK's Relevance in the European Union" to know more about these trade relations.)
In the next and final part of this series, we'll analyze how the world economy is preparing for the UK's exit from the EU.