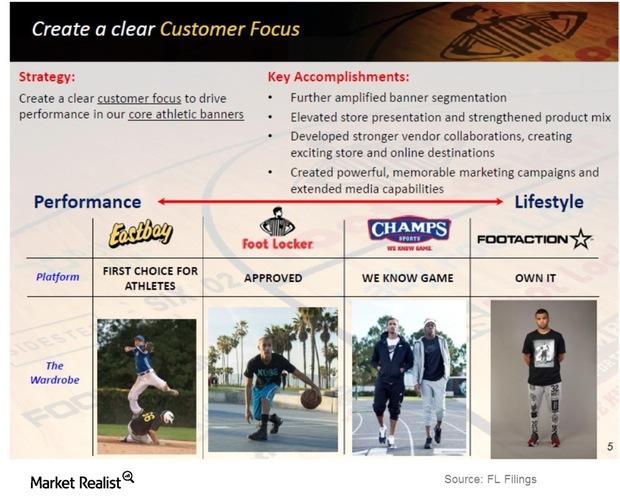 Retail Footprint: Why Foot Locker Operates Multiple Store Formats
Analyzing Foot Locker's diverse retail footprint
Foot Locker (FL) operates in 23 countries around the world, including the United States, Canada, Germany, Austria, Switzerland, Australia, and New Zealand. Its global store count of owned stores (XRT) was 3,396 as of April 30, 2016, which marked the end of the company's fiscal 1Q17. In addition, 64 FL stores (RTH) are owned and run by franchisees in the Middle East, Germany, and the Republic of Korea.
Article continues below advertisement
Article continues below advertisement
Foot Locker's multiple store formats
Foot Locker is primarily a mall-based athletic goods specialty retailer. It operates several store formats, depending on the product, customer demographic, and geography. They include the following:
Foot Locker
Kids Foot Locker
Lady Foot Locker
SIX:02
Footaction
Runners Point
Sidestep
Champs Sports
Foot Locker Approved
Foot Locker Approved is the company's most prolific store format with 1,796 stores around the world, including 971 in the United States. The format retails premium athletic footwear and apparel for men, women, and children. These include marquee sneaker models from Nike (NKE), Adidas (ADDYY), and Under Armour (UA). Each store averages 2,500 square feet in the United States and 1,500 square feet abroad.
In addition, several Foot Locker stores have shop-in-shop arrangements with vendors. These include Nike's (NKE) House of Hoops, Adidas's (ADDYY) a Standard, and Puma's (PMMAF) (PPRUF) (PPRUY) Puma Lab.
Article continues below advertisement
Champs Sports We Know Game
Champs Sports, with its We Know Game slogan, is Foot Locker's second-largest retail store banner, with 551 stores at the end of fiscal 1Q17. These premium stores are located only in the United States and Canada, predominantly in malls, and average 3,500 square feet in size. They sell athletic and lifestyle footwear as well as apparel and accessories for men, women, and children.
Footaction Own It
All of Foot Locker's 266 Footaction stores with the Own It slogan are located in the United States. The stores target the style-conscious consumer, aiming at the premium end of the market. This format focuses on selling lifestyle products.
Runners Point and Sidestep
Foot Locker acquired Runners Point and Sidestep stores in July 2013 with its $81 million acquisition of Germany-based Runners Point Group. Currently numbering 211, these stores are located in Germany, Austria, Switzerland, and Holland. While Runners Point caters to the sports gear needs of the serious runner, Sidestep focuses on lifestyle footwear and apparel products.
We'll look at some growth opportunities Foot Locker is eyeing in its Kids Foot Locker and SIX:02 banners in Parts 6 and 7 of this series.