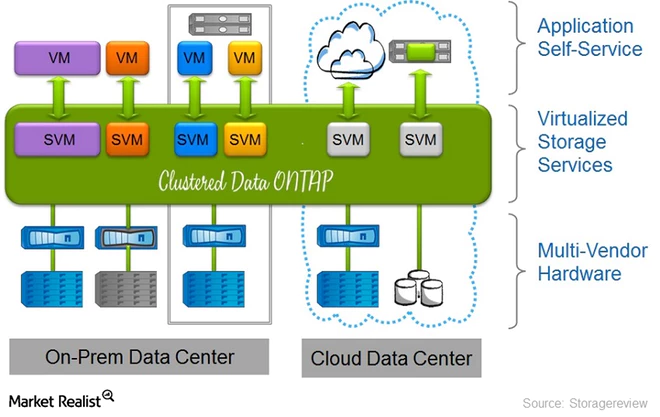 NetApp's Key Driver: Clustered Data ONTAP
What is clustered ONTAP?
In 2013, NetApp (NTAP) introduced its own scale-out storage solution, Clustered Data ONTAP. This allows enterprises to take different NetApp storage array models and "cluster" them together, providing a "single and unified storage pool."
According to NetApp, Clustered Data ONTAP enables seamless enterprise data management across flash, disk, and public and private cloud footprints for enterprise applications. IT (information technology) organizations can consolidate multiple workloads into a single repository, improving the efficiency of their storage environments.
Article continues below advertisement
Clustered Data ONTAP deployment
Clustered Data ONTAP was deployed in 85% of FAS (fabric-attached systems) shipped in fiscal 4Q16, up 50% YoY (year-over-year). Customer demand for Clustered Data ONTAP rose as system shipments grew 80% YoY in fiscal 4Q16. NetApp increased the number of Clustered Data ONTAP customers by almost 90% YoY in fiscal 2016.
NetApp CEO George Kurian stated that "We're pleased with the success of the clustered ONTAP transition program we put in place at the start of the year. In FY16,[1. fiscal 2016] it accelerated migrations at approximately 1,300 install base customers who were ready to upgrade both their systems and their software."
The migrations are expected to happen over the next few years. According to NetApp, in fiscal 2017, the company will introduce the next generation of ONTAP, which combines "new levels of simplicity with unparalleled storage efficiencies and enterprise data management capabilities." This will simplify customers' IT transformations to modern data centers and hybrid cloud environments.
NetApp accounts for 2.5% of the SPDR Morgan Stanley ETF (MTK). The other top holdings of this ETF include Applied Materials (AMAT), Facebook (FB), and Motorola Solutions (MSI), with weights of 3.2% each.