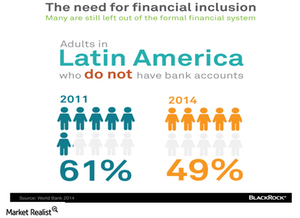 How Mobile Banking Boosts Financial Inclusion in Latin America
But more climbs ahead
It's nice that you can like your friend's vacation pictures on Facebook or text your dad about Quintana's stage win, but what's next?
More financial inclusion. From the World Bank's data, as of the end of 2014, about 50% of adults in Latin America didn't have a bank account. While that is down from 61% in 2011, the fact remains that too many people have no access to banking services or financing. Geography, transaction costs and perhaps most crucially, a lack of financial education, make banking and investing difficult, but several local tech companies have started tackling this problem. One such effort is to build out the infrastructure for mobile transactions, thereby providing anyone with a mobile device access to banking services, no matter where one lives.
Article continues below advertisement
Market Realist – Technology is boosting financial inclusion
World Bank data reveal that since 2011, more than 60 million people in Latin America (ILF) (EPU) have opened bank and mobile money accounts. The number of people with these accounts increased from 169.5 million in 2011 to 236.9 million in 2014.
However, despite the best efforts of the government to include more people in the financial net, 200 million people are still out of the formal banking system. That makes it difficult to reach the target of universal access to financial services by 2020.
Technology-based solutions
The innovative mobile-based model is helping boost financial inclusion in the region. According to a report published by GSMA, a leading association of mobile operators, mobile money accounts in Latin America (EWZ) (EWW) have increased 50% year-over-year to 14.9 million in 2015.
Easy Solutions, a technology security provider, reveals that mobile banking reached 52% of the region in 2015, an increase of 8% since 2013. Currently, around 37 mobile money service providers are operational in the region.
Need more infrastructure push
According to FT Confidential, "Mobile money in Latin America is fast evolving into a convenience tool and credit opportunity that is boosting financial inclusion." Many believe the governments in the region (ECH) need to provide an enabling environment and facilitate regulatory changes to encourage financial inclusion, thus opening up new opportunities.